TAWK Media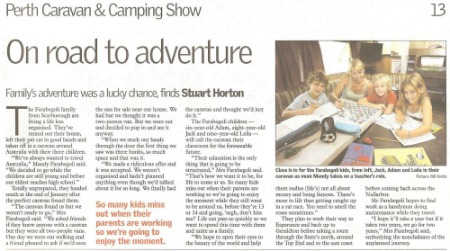 With more and more families wanting to escape the rate race for a while, we are all about encouraging them and supporting them and getting the word out that Travelling Australia With Kids is one of the best things you will ever do! 
We love to 'TAWK', so......

Please feel free to contact us and we can 'TAWK' more about it!
We've appeared here so far.....

RACQ Living - February 2017 -

The best Caravan Blogs



Winfields Outdoors – February 2017  Best Outdoor Blogs 2017 Feature
RV Daily – Issue 8 – Jan 2017  Learning to tow your van
RV Daily – Issue 6 - Nov 2016  Practical hints and tips for schooling on the road
Afternoons with Anna Daniels ABC Brisbane – July 2016  'TAWKing' about Schooling on the road, long hours in the car travelling with the kids and favourite spots.

Hills Radio 88.9 FM  Australia on Track with Andrew Kennedy and Chris Blakemore   -  Nov 2015  General Talking about "TAWKing"
Western Australia Caravan and Camping Lift Out - March 2010 "TAWKing" about Homeschooling and travelling Australia

Contact us for our Media Pack today :)

A great way to recognise other families also Travelling Australia With Kids