TAWKer Supporters - Kimberleyland Holiday Park
In the Kimberley WA


Kimberleyland Holiday Park


Situated, in my opinion, in one of the most amazing parts of Australia - Western Australia's Northwest and the remote and rugged Kimberley. The Kimberleyland Holiday park really is the perfect spot to stay a while and make the most of this amazing region.

They cater for all budgets and offer accommodation from grassed tent or caravan sites to deluxe waterfront cabins.

Their helpful staff can even help you to organise your Kimberley experience to make the most of your stay. They also offer you privacy, entertainment and a stunning location at the waterfront of Lake Kununurra.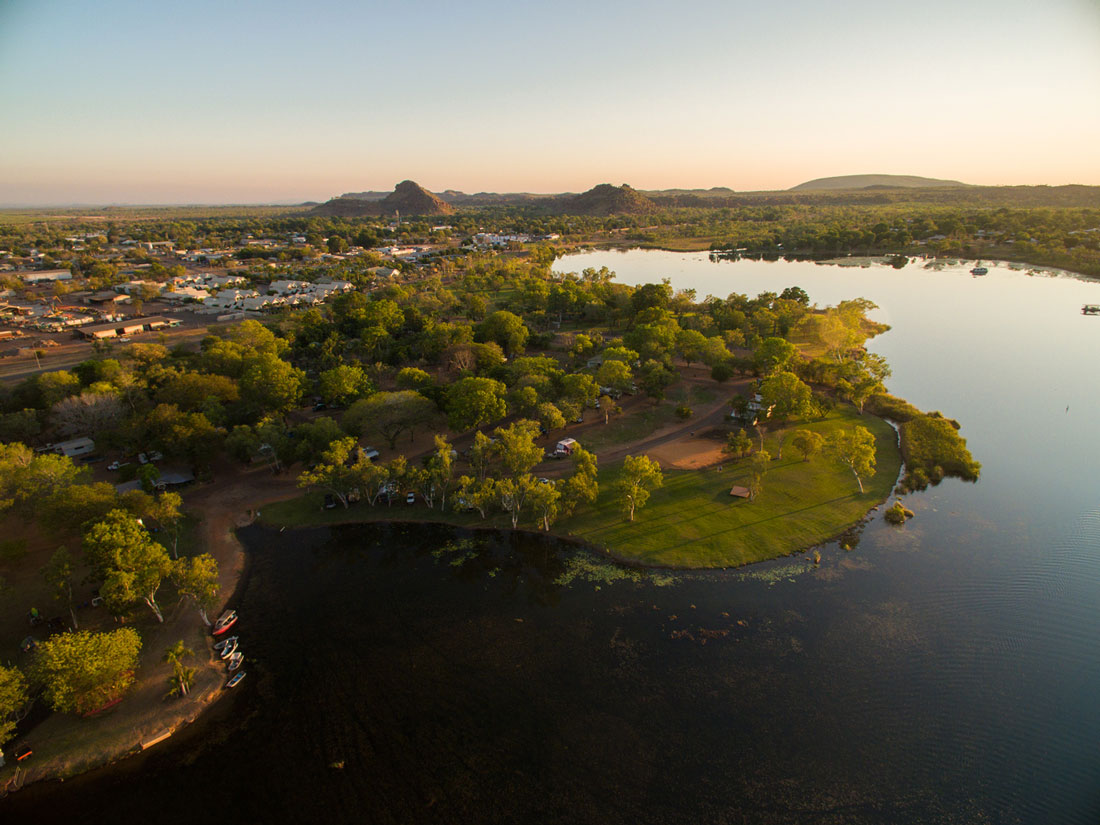 The park is set on beautiful lawns that lead down to the waterfront and they offer large grassed powered caravan and unpowered camping sites.  With plenty of shade, you will love it here.
It has three amenity blocks and full family bathroom/disable facilities.  A Brand New Camp Kitchen with full facilities including television and microwave. There's Internet access,  a book exchange.  FREE gas BBQ's are located at the pool and this makes it a great spot to meet other travellers and hopefully other TAWKers.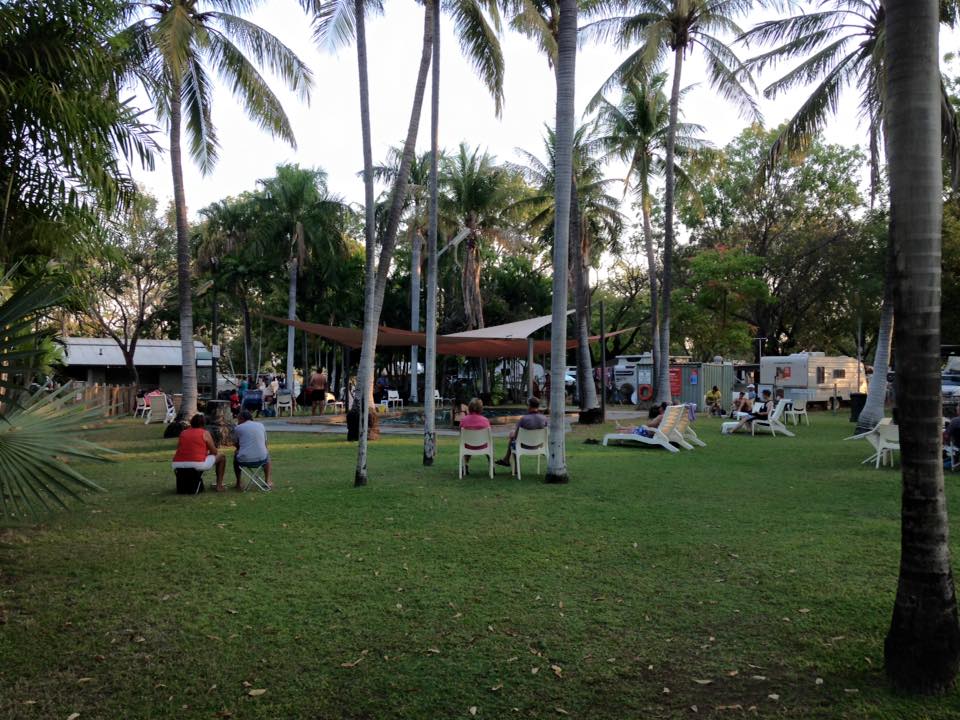 The playground is centrally located for the young children. And you can even hire canoes which really is a great way to experience Lily Lagoon and the Ord River.  My kids always love being on the water and what a great way to spend an afternoon.

Review from Trip Advisor
"What a wonderful park we had a waterfront site it was such a beautiful spot! Amenities are modern and clean. Reception staff very informative and efficient. There was also a musician in the pool area who was absolutely fantastic!" - meljcoyne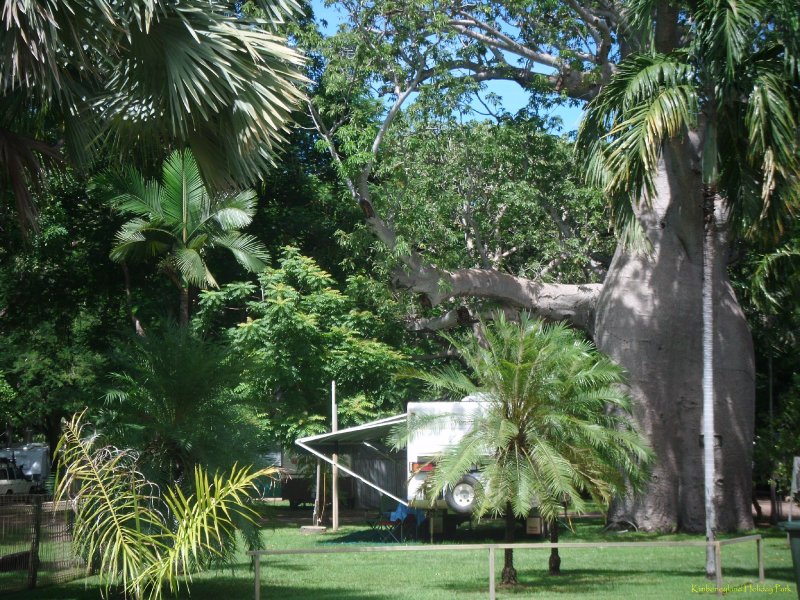 Camping next to a Boab!
Kimberleyland is located in Kununurra, in North Western Australia, about 48 km from the Northern Territory border. It's the gateway to the Kimberley and an area you will really should try to give yourselves at least a week to explore this amazing area.  The park is situated only a 20-minute walk from the centre of town.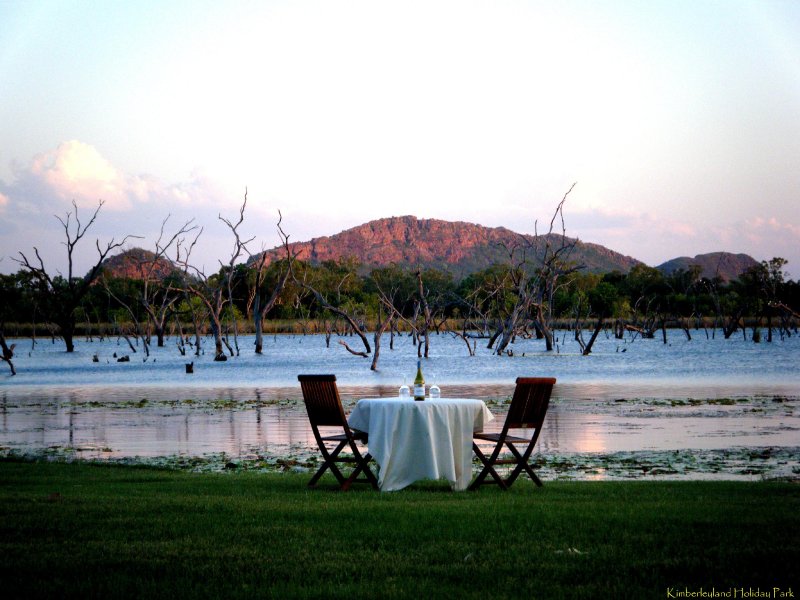 Award Winning Park

The park is certainly standing out in the industry with 2015 being a great year for awards!  Finalists in the 2015  Western Australian Regional Small Business Awards, which recognizes the best of the best small businesses from around the State.
Winning Silver at the 2015 WA Tourism Awards - Caravan and Holiday Parks Category AND Trip Advisor Certificate of Excellence Winners!
Sooo you really don't have to take my word for it!  Make sure you remember this park when you get to The Kimberley!

Review on Trip Advisor

"This has got to be one of the best caravan parks we have strayed at.  The staff were very friendly and helpful with info about the park and local attractions. The park sits right on the lake is picture postcard perfect. The ablution blocks are like new. Can't fault this place. We really didn't want to leave."  Geoffmoore

Where can I find out more?

It's time to head to their Website and support the Kimberleyland Holiday Park AND best of all, because they are TAWKer Supporters, you get 10% off the family price* - they do things differently at Kimberleyland and it certainly is working for them.   So head on over and tell them you are TAWKers book your stay at this great spot or put it on the must visit list and support them supporting you. Oh and stay in touch with them on their Facebook page - head on over and Like the page.

Thanks You Kimberleyland Holiday Park for being a TAWKer Supporter!

* Check with park for details.

If you would like to suggest a business that you think we should approach then please let us know here and contact us or share this page with them. 
If you are a business that would like to become a TAWKer Supporter, then please apply here.

Disclosure:  We might get a benefit from our TAWKer Supporters BUT at no additional cost to you. You get a discount on an awesome product/service that we either used on our travels or we wished we did and we get to keep running TAWK!  WIN WIN all round.  Thanks for your support.
Disclosure: Throughout our site there may be some affiliate links including but not limited to Amazon. If you click them, we may get a small commission for your purchase but this is at NO additional cost to you. We might also get a benefit from our TAWKer Supporters BUT again at no additional cost to you. You get to something you want and we get to keep the lights on here at TAWK. #worksforbothofus Thanks for your support of us supporting you :)
TAWK accepts no liability for any situation arising from suggestions or businesses on the TAWK Site.