TAWKer Supporters 
Left of Field Caravan Park - Tasmania


Left of Field Caravan Park - National Park Tasmania


The Left of Field Caravan Park was recommended to us by a TAWKing Family, as they loved their stay there and wanted to tell other TAWKers about it! 
They said it was a very family friendly park, with amazing scenery and a fabulous host.  I approached the park, explained the TAWKer Supporter Program and Adrian, the owner, is very keen to help families with cheaper camping and FREE stay for the kids.
The sites are roomy so that you are not all packed in together and the owner, Adrian and his family welcome you to their park in a way that only owners can.  They know the area well and sharing that knowledge is a joy to them as they want you to love it too!


Anyone for......Bush Golf!?

Yes!  There is a 'golf course' - bush style!  The kids are welcome to play and it adds another dimension to your stay here.  The clubs are .... native and you will all love playing this 'family' golf game. The clubs are bigger than the average club, the balls are bigger than the average ball. AND you will all have better than the average game!

This golf course will be one to remember, as apparently, sometimes even the native wildlife wants to play too.
The owner loves to take guests out to tour this amazing area and his knowledge and humour make the tours a 'must do' event!  Adrian loves to chat to his guest but not in an obtrusive way, in a 'mates' way. He wants you to enjoy your stay and will do all that he can to ensure you do just that.
Platypus sightings are almost guaranteed and trout fishing is a must in the nearby river.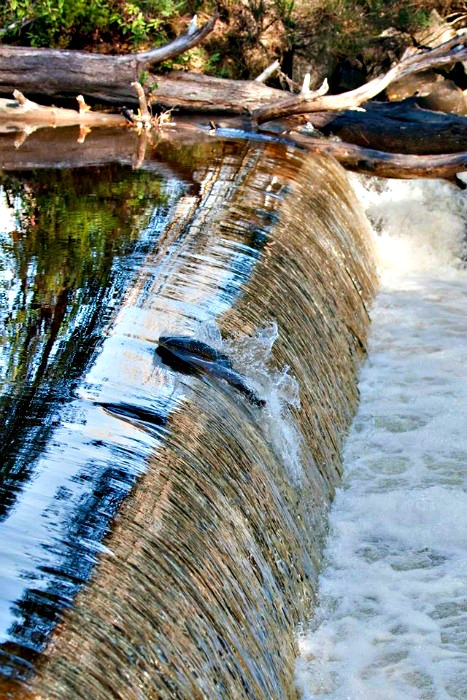 Review on their Facebook Page

"Word of Warning folks: pack for a double stay, organise more days off, and stock up because this is one park that you won't want to leave!! Loads of room (no cattle pen spots for this place) for your kids, pets, special self to spread out in. Great family spot, no shortage of things to do. Not a typical caravan park experience, the family is greatly welcoming, entertaining and have made themselves a park that we will be visiting time and time again. "  - Travis

At the times of year when you can have a campfire, you are encouraged to and if Adrian can, he will help you with that too.  Let's face it, there really is nothing nicer than sitting around a campfire with your family and new friends.
Left of Field is not your average campsite, so plan for a longer than average stay!

Review from their Facebook Page

"What an absolutely amazing place, arrived to an amazingly lit fire pot, beautiful surroundings, a welcome sign and great hosts. So much to see and do. Thanks Adrian for sharing your expertise in photography and taking us for a tour around your amazing property....did I mention the great fire pot...what a great way to spend a weekend away, can't wait to return (oh and our puppies absolutely loved it)." - Ange

Wikicamps Reviews....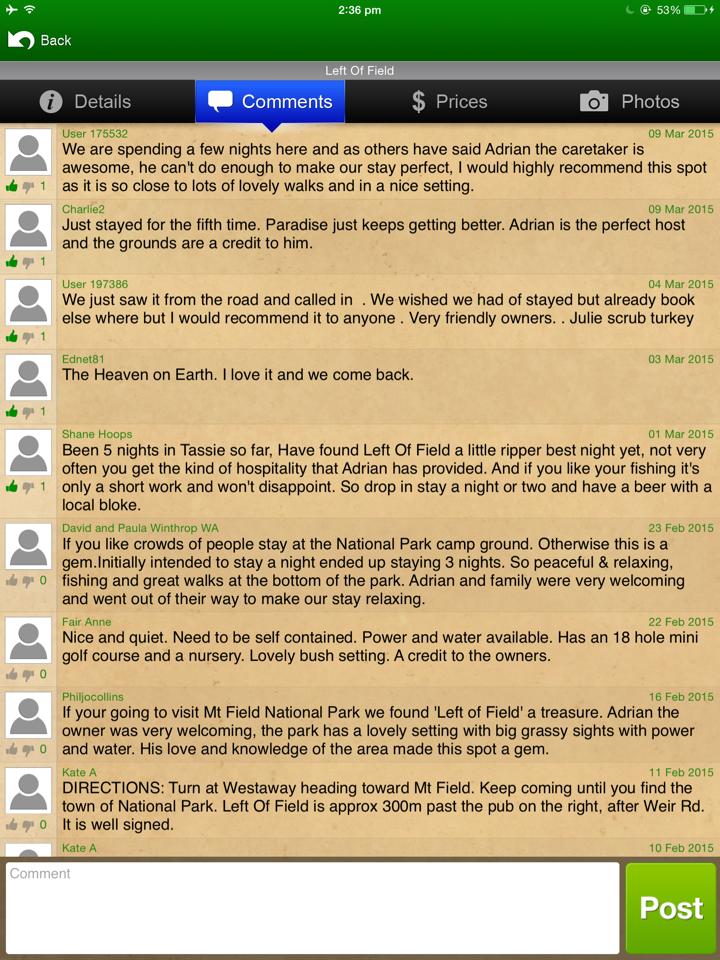 Where can I find out more?


Adrian is so busy running and loving his park, that he is still working on getting a website up and running, but you can call him on 0418 136 434 they are definitely TAWKer Supporters,  as the kids camp 2 night's FREE!  Tell him we sent you! Put this well recommended spot on the must visit list and support them supporting you. There is the Left of Field Facebook page, so ensure you 'Like' it, to keep up to date with all things....Left of Field!

Thank You Left of Field for being a TAWKer Supporter!

Check out other Caravan Parks or Stations supporting TAWKing here.

If you would like to suggest a business that you think we should approach then please let us know here and contact us or share this page with them. 
If you are a business that would like to become a TAWKer Supporter, then please apply here.

Disclosure:  We might get a benefit from our TAWKer Supporters BUT at no additional cost to you. You get a discount on an awesome product/service that we either used on our travels or we wished we did and we get to keep running TAWK!  WIN WIN all round.  Thanks for your support.
Disclosure: Throughout our site there may be some affiliate links including but not limited to Amazon. If you click them, we may get a small commission for your purchase but this is at NO additional cost to you. We might also get a benefit from our TAWKer Supporters BUT again at no additional cost to you. You get to something you want and we get to keep the lights on here at TAWK. #worksforbothofus Thanks for your support of us supporting you :)
TAWK accepts no liability for any situation arising from suggestions or businesses on the TAWK Site.