TAWKer Supporters 
Wintersun Caravan Park Carnarvon WA


Wintersun Caravan Park Carnarvon WA


Wintersun Caravan and Tourist Park is family owned and operated. All of the staff pride themselves on exceptional customer service and standard of facilities offered at "the park" and I can vouch for that, having always staying with them when we travel up north.  (Once when we were evacuated from Coral Bay due to a cyclone in the area!)  They could not have been more helpful in assisting and organising everyone in the same situation to get a spot to stay.
From April - October they run weekly events at the park.  They accommodate BIG rigs and you can bring the dog!  I think that you can tell that these guys really are in the right industry as now they are also 'Supporting TAWKing'!  OH and the one thing that my kids always loved....they have a bouncy pillow!!
Check out this video as this will give you an idea of this great team and park.....

Most recently Wintersun Caravan and Tourist Park received a "Green Star" logo in recognition of the environmentally friendly practices employed in the business!  Now we also love that.

They have also won the "Best Tourism Development Business from the Carnarvon Chamber of Commerce Business Awards".  AND I think that you can tell that these guys really are in the right industry as now they are also 'Supporting TAWKing'!
Oh and they welcome your dog too!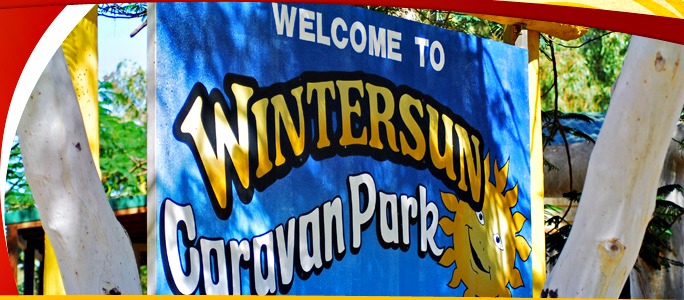 Camping Sites

Their powered sites are BIG and shady - YAY! - with grassed sites for caravans or camping and most of them have annex pads and grassy surrounds.

The great news is, they can accommodate BIG rigs, something that I know is not always available to those of you with larger vans or buses.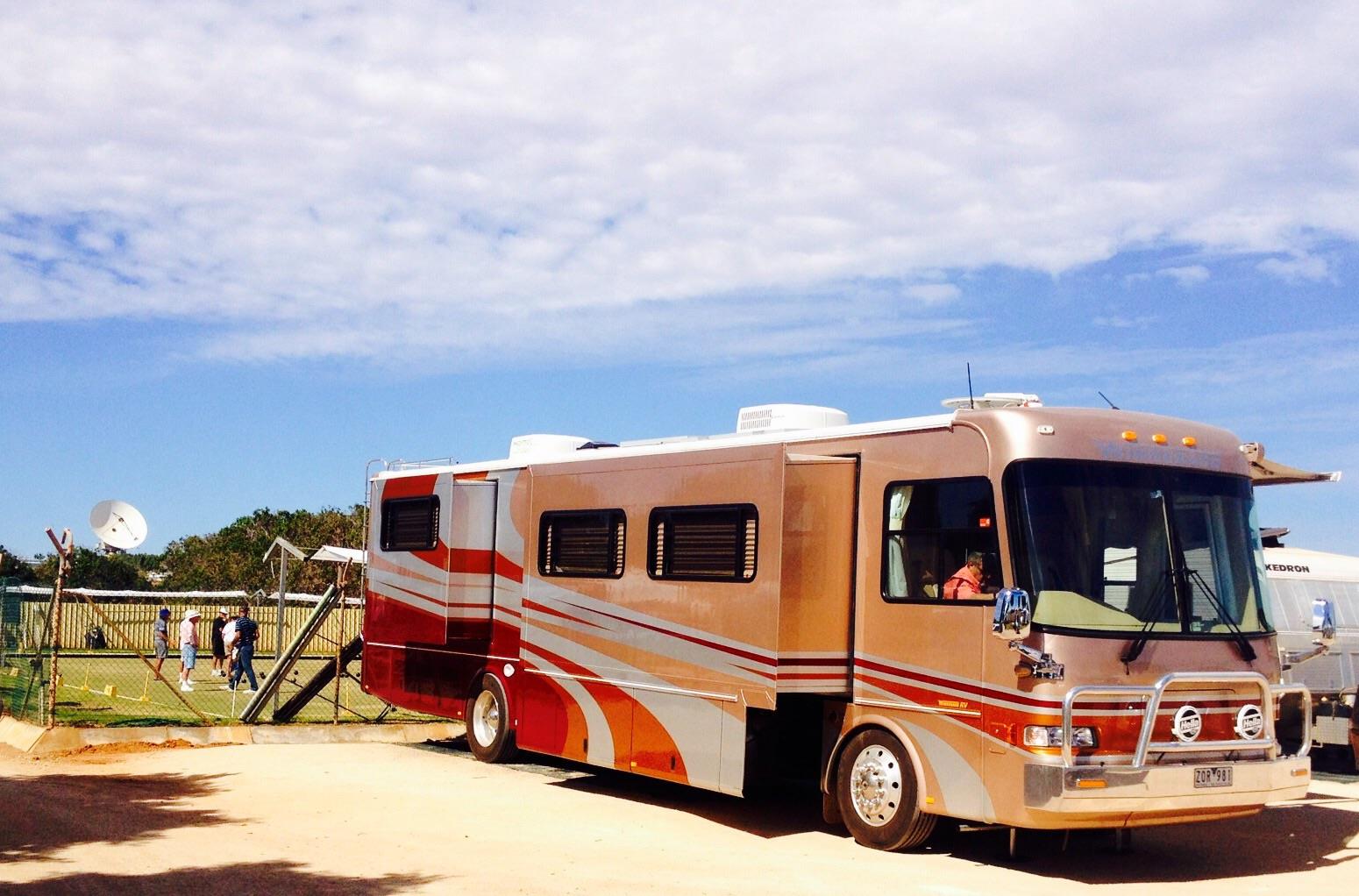 Cabins and Chalets

Carnarvon is a popular stopping point for people travelling through this area. The town lies within easy reach of the spectacular sights of Coral Bay, Karijini National Park, Exmouth, Shark Bay and Red Bluff, and this is when in the past, we have also stayed in their chalets, which I have to say was a pleasant change from being in the caravan.

Plenty to do

There is also lots to do in Carnarvon, whether you are after the fresh produce that the region offers or the great fishing, the iconic satellite dish or the surrounding beaches.  There's something for everyone.

Reviews
Post on their Facebook Page:
"What a lovely caravan park. Really enjoyed our stay. Staff are lovely and friendly and helpful. The grounds and amenities are beautiful and clean and tidy. Especially love all the activities and special events activities....Sunday pancakes, and Monday Spud night while entertained by a musician. Very pleasurable and enjoyable stay. Thanks for the memories." - Sue T


Review from their Facebook Page:

"What a great place! Pity it was just for a stop over on our way through. Room was excellent and service was great. That lady at the reception (I think it was Melissa) was awesome, she was more than happy to help with sorting us out for the night for our little one. Next trip we will definitely be staying longer. Very rare to get great service like this now days."
Recreation room and bowling green

Their large recreation room is a buzz in the winter months with their extensive social events programme including Bingo, boot scooting, craft classes, sausage sizzles, dancing, concerts and cards. Entertainment plus!

The recreation room is open upon request in the off season for table tennis and darts.
And yes there is also a bowling green.

Where can I find out more?

It's time to head to their website and support the Wintersun Caravan Park AND best of all, because they are TAWKer Supporters, the TAWK member's kids get to camp* two nights free! Make sure you tell them you are TAWKers if you phone and book and show them your TAWK Membership Card.  So head on over and book your stay at this great park and support them supporting you.  Wintersun Caravan Park
*Offer not available in  June, July or August, during school and public holiday periods or In conjunction with other offers (eg free night deals) - check with park directly for details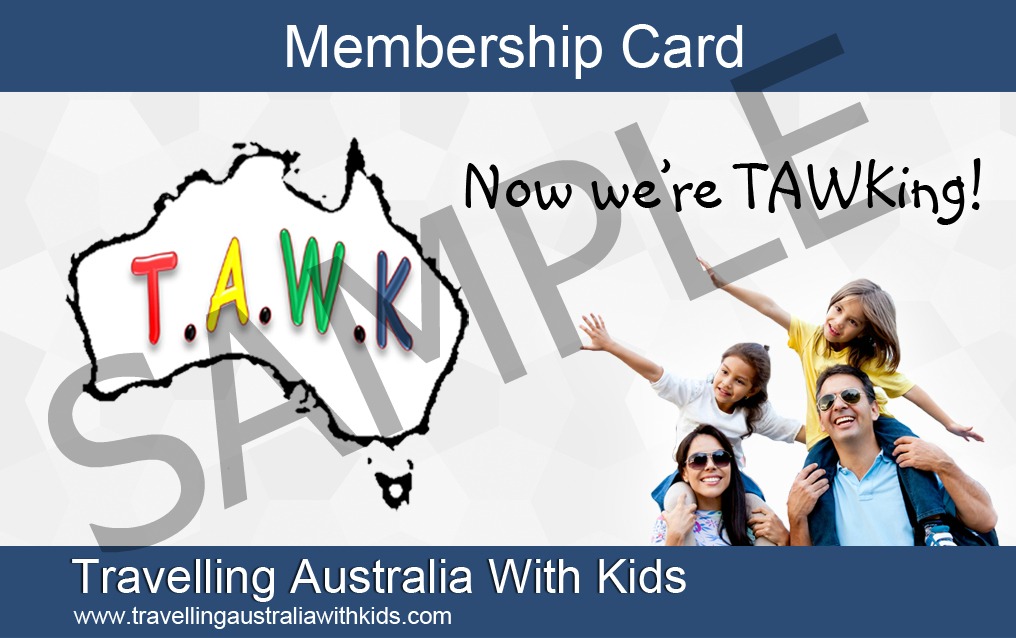 Thanks You Wintersun Caravan Park for being a TAWKer Supporter!

If you would like to suggest a business that you think we should approach then please let us know here and contact us or share this page with them. 
If you are a business that would like to become a TAWKer Supporter, then please apply here.

Disclosure: Throughout our site there may be some affiliate links including but not limited to Amazon. If you click them, we may get a small commission for your purchase but this is at NO additional cost to you. We might also get a benefit from our TAWKer Supporters BUT again at no additional cost to you. You get to something you want and we get to keep the lights on here at TAWK. #worksforbothofus Thanks for your support of us supporting you :)
TAWK accepts no liability for any situation arising from suggestions or businesses on the TAWK Site.