Are we there yet? 


This book 'Are we there yet?' by Alison Lester is such a great book at the best of times, detailing the journey of a young eight year old girl and her family as they journey Australia.  Combine it with the fact that you are or you are about to travel the country, this really is the book you need to get for your kids - we use the Book Depository as postage is FREE, so click here to buy now.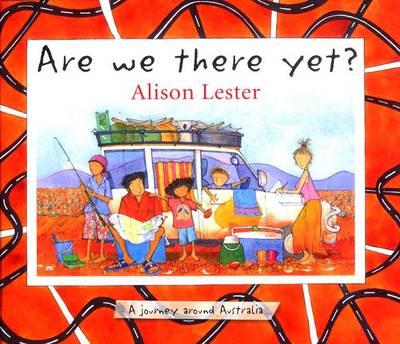 It is written through the eyes of the little girl called Grace, so your children will have no trouble in reading this (depending on their reading ability of course). If the children are too young, the illustrations are just wonderful and it's a joy to read to them.

The little lad Billy in it constantly asks "Are we there yet?" and I think we can all relate to that!

There are so many little moments in the book that I could relate to and that you also might too.  One of those first moments was Grace saying goodbye to the grandparents and Nan saying 'I'm going to miss our cuddles" .  True for many of us and especially for the kids and the book validates their feelings and something we might not realise as adults how emotional it is to leave 'home'. 
When they were camping in a remote spot, you know (or will know) what she means  when she says 'It felt like we were the only people in the world' - ahhhh those moments when it is just you and the stars.

The little things like the boys having on occasions having to use the women's bathrooms are not forgotten - the little lad being embarrassed and mine were too sometimes.

The illustration showing all the different positions everyone finds in the car made me smile.  I could relate to that! That and of course "Are we there yet?"!

It has a travel diary feel to it and you know that you could almost do one yourself as a little project with the kids.  As the family travel from state to state, the landmarks are all there and it will re-enforce your children's trip in later years when you find it in their cupboards. As this one is a keeper.

A great way to recognise other family Also Traveling Australia with kids


Are we there yet?

I could relate to the dad views 'Too crowded - I liked it better when it was just us and the whales' as they were in Monkey Mia to see the dolphins as you see him about 8 deep behind lots of tourists  - Very well done I thought and again, made me giggle.

It's educational throughout but sublimely. BUT that is the trip also.  The kids learn so much and mostly when they don't realise that they are.

It touches on real situations 'Everyone felt hot and grouchy' and we all know that is true sometimes - 'Are we there yet?'!!

This is the book that I wished one of my children had written, it encapsulates travelling Australia from young Grace's point of view.  My children did keep a diary and that is something that they look back on now, so I encourage yours to do the same.  Grab this book here via our affiliate link to buy now and get FREE postage. Mine still love it and it certainly helped mine and gave them ideas on what to write in their own diaries.

We may get a commission from affiliate links. If you click them, we may get a small commission for your purchase but at no additional cost to you. You get an awesome product/service that we think you will love and we get to keep the lights on!   And we all want that :)

Disclosure: Throughout our site there may be some affiliate links including but not limited to Amazon. If you click them, we may get a small commission for your purchase but this is at NO additional cost to you. We might also get a benefit from our TAWKer Supporters BUT again at no additional cost to you. You get to something you want and we get to keep the lights on here at TAWK. #worksforbothofus Thanks for your support of us supporting you :)
TAWK accepts no liability for any situation arising from suggestions or businesses on the TAWK Site.