The Australia Scratch Map!  How much do I love this idea and we are so happy to be able to bring it to you.  Great to grab for your kids OR for the grandparents or family as they follow your travels with you. Hey get one for both!  
I used to LOVE these scratch pictures when I was a child (and frankly still love doing them now!) and what a great way to show off your travels as you do them than to scratch off bits at a time on an Australia Scratch Map! The kids seriously love scratching away and discovering the colourful country underneath. It can also help with their fine motor skills.
Kids scratching the Australia Scratch Map

Australia Scratch Map
It's an easy and quick way to keep a track and also show your family and friends all the places you've been to.  The kids will love to scratch off a section.
It comes with a little tool box of items including a scratch tool, so the kids can scratch away to reveal the vibrant colour underneath.  There's some Bucket List Spots at the top to tick off....er I mean scratch off!!
And also, just as a little bit of education for them, it also features the Australian flags of each state and territory at the bottom. 
Now do make sure when you unpack the map that you grab the little tool box pouch as it does have some small items that might not be great for the kids to get hold of.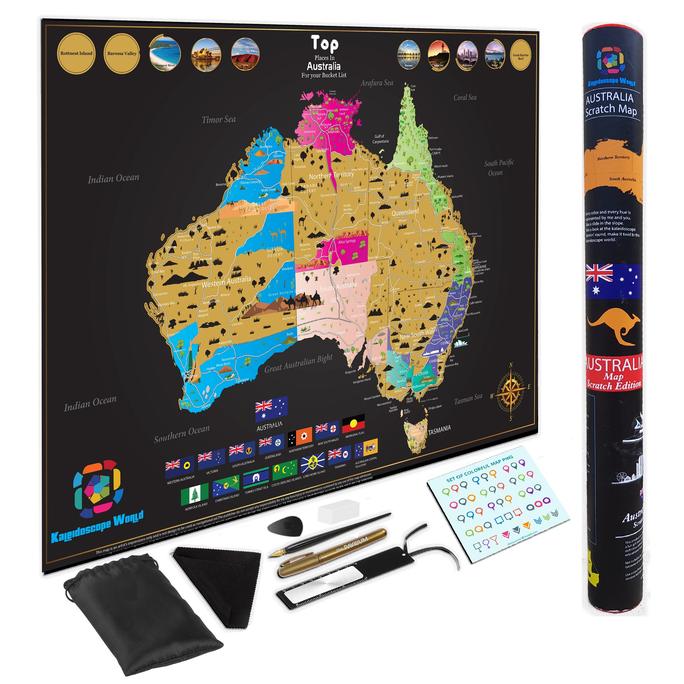 The Australia Scratch Map is a WA family owned and operated business and they loved travelling Australia so much (a bit like myself!) and wanted to produce something that would be a great way to record and display how much of Australia you have seen. 
Instant conversation starter on any wall at home or in the caravan, the map is a good size (32 x 24 inch) or (80 cm x 62 cm), It also fits standard poster frames.

Check out their video below...

Not just Australia Scratch Map, a World Scratch Map too!
There's not just an Australia Scratch Map, there's a World Scratch Map too!  Complete with flags that you can show off and scratch away all the countries that you have visited!  AND a bucket scratch off too!  These really make a great gift for either the world travelling in your family or the Australia traveller.

Disclosure: Throughout our site there may be some affiliate links including but not limited to Amazon. If you click them, we may get a small commission for your purchase but this is at NO additional cost to you. We might also get a benefit from our TAWKer Supporters BUT again at no additional cost to you. You get to something you want and we get to keep the lights on here at TAWK. #worksforbothofus Thanks for your support of us supporting you :)
TAWK accepts no liability for any situation arising from suggestions or businesses on the TAWK Site.