Kurrajong Camp, Cape Range National Park, Exmouth, WA.
by Leanne
(Perth, WA)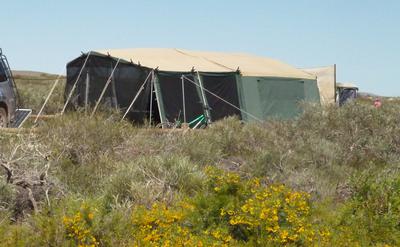 Campsite
What a fantastic family camping holiday!!

In the beautiful Cape Range National Park in Exmouth there are several DEC campgrounds to chose from. This year we stayed with friends at Kurrajong Campsite during the July school holidays for 2 weeks.

My husband and kids love camping and I enjoy the occasional weekend and long weekends away. However, I must admit, my initial thoughts of camping in the Aussie bush with no electricity, drop-down toilets, and no running water for 2 weeks was not my initial dream holiday away. Well....I have now been converted. I loved it! Friends have been to campsites in the Cape National Park the past couple of years and told us we must go. I agree - it was so relaxing, back to basics, lovely weather, great time with the family and friends, and so much beautiful Australian flora and fauna (kangaroos, emus, echidna, eagles, racehorse goanna, rock wallabies etc) on our door step.

The Kurrajong Campsite is split into 2 groups of 13 sites. Each having 2 toilets which were always clean. The sites are hidden from the "main road" and are sheltered behind the sand dunes. Each site is far enough away from the next to allow for some privacy but this did not prevent any socialising. Every night there was sunset drinks meeting other families. The kids had no problems at all getting together with other kids at the campsite and all getting along perfectly. And riding their bikes around together. We have stayed in touch with a lovely family we met and the kids loved catching up again.

Kurrajong is the best site to view the whales every day playfully breaching, showing off their water skills and teaching their young calves. The beach was just over the sand dunes and we spent a lot of time there everyday whether it be swimming, snorkelling, kayaking, building sandcastles or sand animals, reading on the beach, yoga sessions, or the men trying to catch a fish. Such a busy day! The water wasn't as warm as we had expected but the kids were in the water everyday. The water life was incredible just in that bay - in addition to whales out near the reef, we spotted dolphins, dugong and lots of fish of all sizes and colours. Snorkelling is a must! All of this activity - and not a cent was spent.

Other days were filled with a hike amongst the amazing Gorges, Yardie Creek, snorkelling at Turquoise bay, visiting friends we knew were also holidaying in Exmouth or at other campsites along the Cape Range National Park. And my most amazing experience was snorkelling with the whale sharks. You must do that - only activity that cost us money. It was awesome- also swam with manta rays and all the coral life. We saw reef sharks, dugongs, turtles, dolphins.

We were there for 2 weeks and didn't get to see/do everything. We will be back. Thoroughly recommend it.


Disclosure: Throughout our site there may be some affiliate links including but not limited to Amazon. If you click them, we may get a small commission for your purchase but this is at NO additional cost to you. We might also get a benefit from our TAWKer Supporters BUT again at no additional cost to you. You get to something you want and we get to keep the lights on here at TAWK. #worksforbothofus Thanks for your support of us supporting you :)
TAWK accepts no liability for any situation arising from suggestions or businesses on the TAWK Site.