TAWK Membership Card

Finally the TAWK Membership Card.  We said we'd get you cheaper camping and we are!  We are making a difference to travelling families lives by asking camping spots to give your kids at least 2 nights FREE camping ** - some do more!!  Have a look at the map below to see all the TAWKer Supporters currently in the program....also click here.
**SOME of our TAWK  Supporters Parks say they cannot offer this deal in the school holiday or public holiday times BUT let's face it, us TAWKers tend to avoid the busy school holiday periods anyway - please check on each park as stated on their listing.

TAWK Membership Card
How did the TAWK Membership Card come to be?

It was suggested by a TAWKer AND pretty much all of the participating TAWK Supporters to get a TAWK membership card to identify TAWKers; BUT first.... don't panic! DON'T PANIC!! I don't want to become a millionaire (well I do, but not at your expense!!) so it is a one off fee* for the lifetime of the card.

Soooo... We took your suggestion, bit the bullet and did it - we made the TAWK Membership Card and we hope you all understand and get behind us.
YOU WILL NEED TO SHOW THE CARD TO GET THE DISCOUNTS!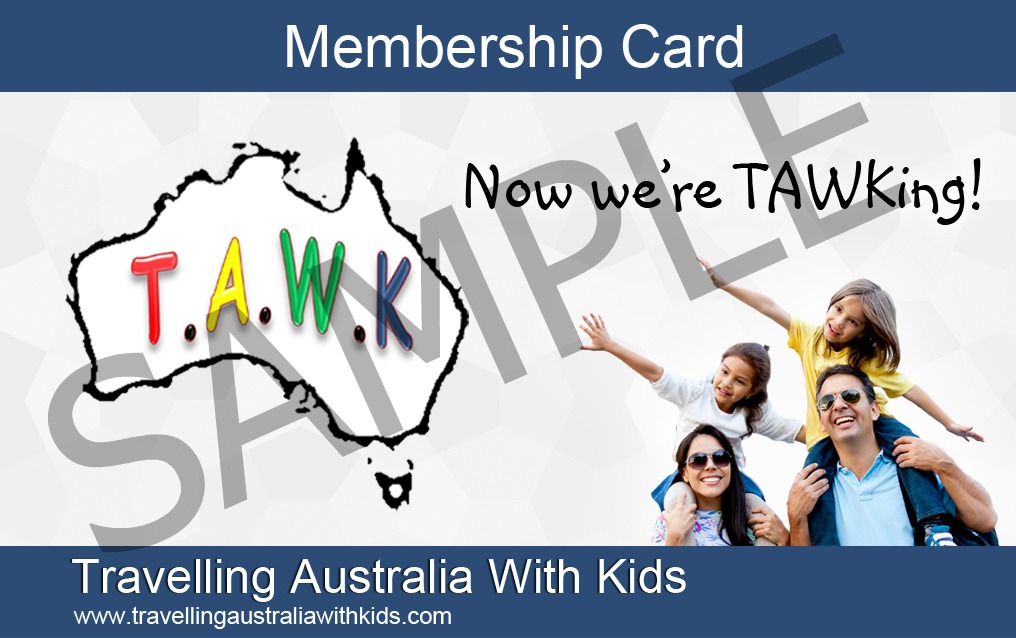 We've already signed up more parks/camping spots since we started promoting the TAWK Membership Card. That will help you all in the long run. 
The TAWK Supporter Parks are currently listed on the Aircamp App and Wikicamps have said that we needed 25+ parks to be considered for a filter on their App - we are over 80 parks now, so hopefully on their next upgrade we will be on it.
We really appreciate your support as we continue to support you too.  Here's the link to grab yours and support us, supporting YOU!
TAWK Membership Card - Digital Image
If you are already travelling - fear not!  You can grab a Digital Image and download it to your device to show the participating TAWKer Supporters.  Or of course we can send it to a post office at a town you will be heading to soon.  Where there is a will there is a way!  So get yours and take advantage of the TAWKer Supporter Program.
YOU NEED TO SHOW THE CARD TO GET THE DISCOUNTS!

Thanks again for supporting us, supporting you.
* If you lose the card, you'll need to buy a new one to continue to use the Program - we have to keep it simple to keep it viable and appreciate your understanding.

Disclosure: Throughout our site there may be some affiliate links. If you click them, we may get a small commission for your purchase but this is at NO additional cost to you. We might also get a benefit from our TAWKer Supporters BUT again at no additional cost to you. You get an something you want and we get to keep the lights on here at TAWK. #worksforbothofus   Thanks for your support of us supporting you :)
Travelling Australia with kids is a participant in the Amazon Services LLC Associates Program, an affiliate advertising program designed to provide a means for sites to earn advertising fees by advertising and linking to Amazon.com.au

TAWK accepts no liability for any situations arising from using suggestions on the TAWK Site.