Travelling in Remote Areas



Travelling in remote areas can be dangerous and as Australia is massive, you need to take extra care.  We have a few things here that you need to consider.
You can see JUST how big Australia is from the picture below - YES that is Europe encased in it...with room to spare!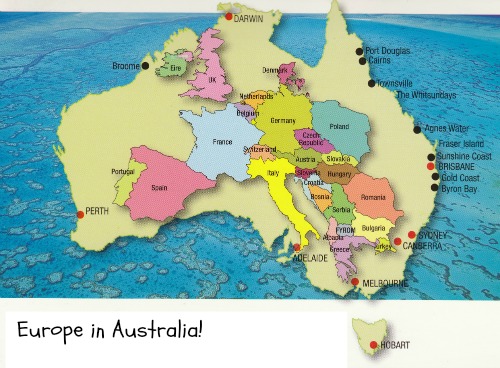 What do you know about the safety of travelling in remote areas?  Being prepared is half the battle and you absolutely must be prepared.  Our country can be unforgiving once you are out there in the elements.  You will see the most amazing scenery and have the most amazing adventure. BUT do not become a statistic and be one of the 25% of city folk who come unstuck when they are travelling in remote areas of Australia and take up the valuable time of the Royal Flying Doctor Service.
Should you break down, STAY with your vehicle, they are much easier to find than people in remote areas.  You will need to use your car or van for shade and shelter.

Below is a list of all the things that you should consider BEFORE you head to the Australian Outback
Travelling in Remote Areas of Australia More Info....

Advice   Get information and advice on the local conditions and anything that you should know before setting off.  Let someone know where and when you are going and an idea of when you will be back.
Weather   Be aware of the weather conditions - visit the Bureau of Meteorology Australia for any alerts or warnings.
Fire   Tricky one as bush fires can spread insanely fast - but be aware of the bush fire conditions and be aware if you see smoke!

Road   Be aware of road conditions.  Every state has a main roads department.  Check in with the one you are in or about to enter.

Vehicles   Your vehicle needs to be in tip top condition and packed efficiently with not too much weight on any roof racks, you don't want to risk a roll over by being top heavy. Equally ensure any trailers or caravans are packed evenly.
Tyres   Get yourselves some good tyres and check them often for any wear and tear. Ensure you have the correct tyre pressures for the conditions.
Water   Water is your absolute must have.  Should you break down, you may have to wait a while for assistance.  You need to carry enough water for each person travelling 10 litres is recommended by the RFDS.  Use various smaller containers as well as your storage tanks and ensure safe storage to avoid spillage, splits and leaks.
Food   Seems obvious, but ensure you have enough for at least two days.
First Aid   Complete a First Aid course and take a comprehensive First Aid Kit with you.
Aboriginal Land   You will need a permit if you travel off of the designated highways on Aboriginal Land.
HF Radio   HF Radio that is compatible with the Royal Flying Doctors Service.  Mobile phones and even CB radios may not work in really remote areas.
A great way to recognise other family Also Traveling Australia with kids


Travelling in remote areas of Australia should be an amazing adventure for all the family, taking these few steps to ensure your safety will give you peace of mind to explore and enjoy.


Disclosure: Throughout our site there may be some affiliate links including but not limited to Amazon. If you click them, we may get a small commission for your purchase but this is at NO additional cost to you. We might also get a benefit from our TAWKer Supporters BUT again at no additional cost to you. You get to something you want and we get to keep the lights on here at TAWK. #worksforbothofus Thanks for your support of us supporting you :)
TAWK accepts no liability for any situation arising from suggestions or businesses on the TAWK Site.