Blackwood River Houseboats


"Whatever Floats your Boat Tour - Girls Trip 2017"

Running TAWK does put extra pressure on me to come up with an idea for the Girls Trip every year.  Last year the "Show us your Pinnacles Tour 2016" was fantastic (as were our Pinnacles) as we toured up the WA coast in a Motorhome.  This year I thought that a Houseboat Trip would be a great idea and luckily I was not wrong!
I investigated a few options and chose Blackwood River Houseboats and what a great choice that turned out to be.  Pam the owner was just about as excited as me when I mentioned it would be a girls trip and my enthusiasm was only accelerated when she mentioned that we could also grab a "Tri-yak"  (Yep kayak but for three!), a tinny and a Stand Up Paddle board (SUP to those in the know!).  Oh I could see some fun here already!

There was also a top deck, where I could visualise us relaxing and enjoying the sunshine, eating our meals and of course enjoying Happy Hour as the sun set on the Blackwood River. There was a little verandah at the back of the boat that we could enter the water from and I'd even seen a video of previous hirers leaping off the top deck and jumping into the water!  I wasn't sure any of us were that brave, but knew it could be on the cards.
When I presented the idea to the girls, they were in and everyone agreed that if one jumped, we all jumped - mind you this was over a glass of bubbles and when I mentioned it at the next gathering, there were a few worried looks and nervous coughs (mine being one of them).
One thing I did not consider at the time was the weather! And as the time got closer I had a thought that Swimming, Stand Up Paddle Boarding, Tri-yaking and Sunbathing may not be on the cards...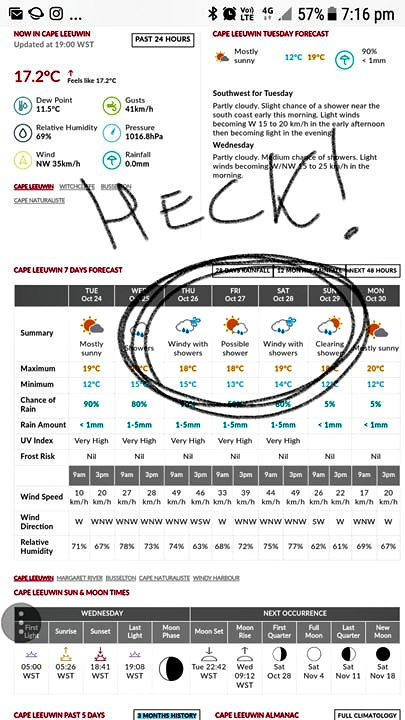 Blackwood River Houseboats New Itinerary

Now what!?  I knew that I needed to take action.  We could not rely on the weather to ensure we had fun, get out and about and enjoy the river, it looked like we might be all together, on the boat, ALL the time.  I mean I love these gals...but 24/7 for 4 days without the SUP-ping, the tri-yaking, the jumping!?  It was time to think outside the square and think 'Op-Shops'.  Strange turn of events there, I hear you think, not your go to thought?  Bear with me...I had some ideas....

'Shock Frock Friday" - Dress up night where you were only allowed to buy your dress from an Op Shop!  (See.... Great idea and what a laugh it turned out to be - see further down)
Games Night - we all played them with the kids and we all had them, so let's have a laugh and play some.
Art Afternoon - you may scoff, but it brought out the 'Bob Ross' in most of us!
I was feeling better already and pitched the Shock Frock idea to the girls.  Before I could say, make sure it is hideous, I was receiving photos of the girls trying on dresses and as per instructions, they were hideous!  The actual trying on the dresses and seeing other shoppers faces as we paraded through the shops in our shock frock and posting them on our group chat was so much fun in itself.
Easy to Drive

I must admit, I was worried about being the Captain of the boat (secretly wrapped and intended to use my power at every opportunity) as I do not have my skippers ticket and am usually very sea sick.  But I knew I had to step up as this was my idea and I am a control freak anyways! 
Turns out you don't need a Skipper's ticket and the river barely ripples.  Pam gave me a lesson and before I knew it, I was sitting at the helm and steering us up the Blackwood.  She ran through some must do's and must not's and left us at one of the moorings up river, showing us how to attach to a buoy.  I think she left thinking I was more confident than I felt, but with hindsight she knew her stuff as it was much easier than it looked - or of course I am a legend, which of course is the story I will be telling the kids!
Making the most of the river

Never ones to let the weather get in the way of a good trip, the girls embraced the water.  The only thing that didn't get a go was the SUP board and for some reasons my Captains order's that someone had to do it before me to ensure my safety, being the Captain and all, fell on deaf ears.  But the tri-yak and tinny had a good run and I did the right thing by not leaving the vessel and seeing the river from a different angle via the videos they took on their phones.  Someone had to do it!
It is a Tri-yak, but couldn't convince me to go on with three!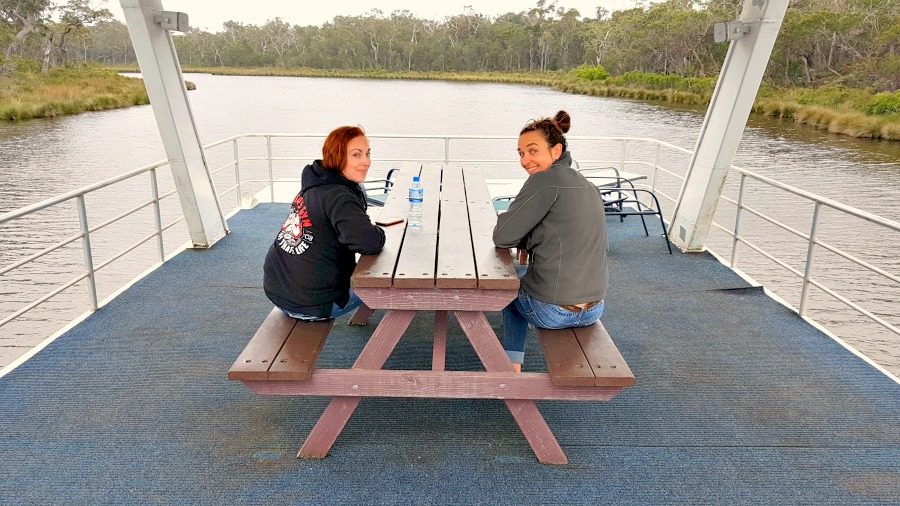 Enjoying the deck even without the sun...OR bathers!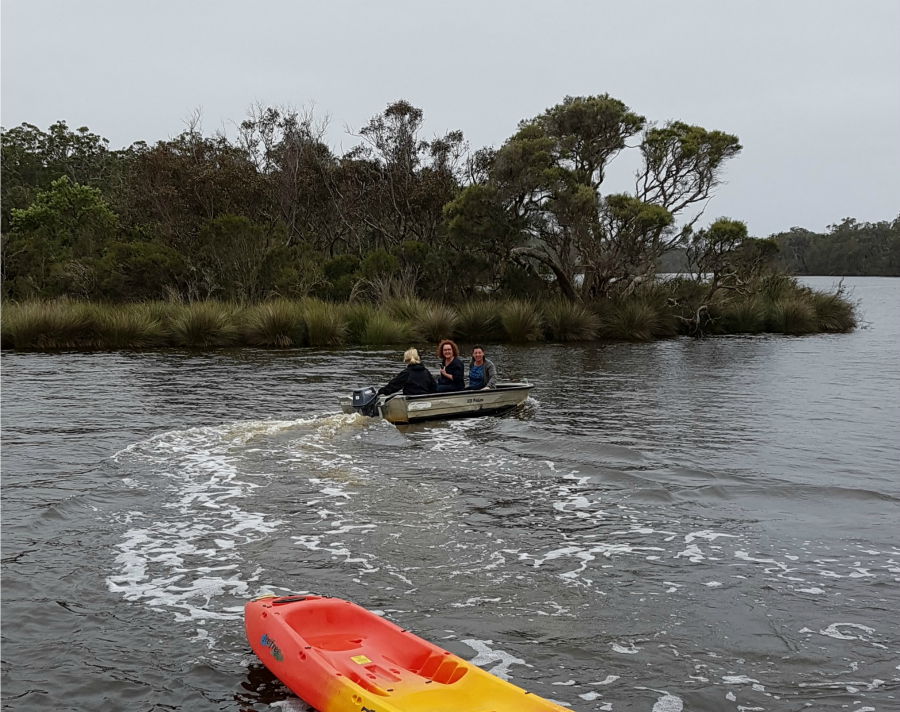 Exploring the Blackwood in the tinny
Holding down the fort (boat) to ensure safety for all
So as you can see, I kept my eye on everything back at the houseboat. I even stayed in the Captains chair to ensure the crew knew that I was taking my role seriously.
(NOTE we are moored safely and obviously no drink driving with the boat!)
Shock Frock Friday

Sooo, Shock Frock Friday!  Well we did the name proud - although weirdly when some posted on their social media pages, we had a few "You look great girls!" To which we told them to pop on their reading glasses and have another look!

We managed to keep our dresses a secret from each other and paraded out one by one.  As one dress surpassed the next and then the next it was hard to choose which was the best - read worst, which of course made it the best!  Instead we ended up trying each others on and by the end of the night we all found one that we were comfortable in, but not the one we originally started with.
Shock Frock Friday was a success and we've all thought of different themes for the next one.

I didn't get the memo about bare feet - cause that was what you were focusing on there!
Let The Games Begin

Games afternoon - Being mum's, I thought we had this game thing down.  We'd played with the kids over the years and had always managed to just lose to save little Johnny's feelings...or so I thought! HECK NO!  These girls were competitive, I think they had been waiting for this moment most of their game playing days!  Who knew that you could talk during charades?  How can you argue over the buzzer noise in Family Feud? AND how is "Cards Against Humanity"  even a game?! Don't get me started on that one!

Balderdash, though we were all pretty good at - must be all the white lies to the kids over the years "yes, Fat Cat does seem early tonight but it must be time for bed if he's on". 
And then came the painting!

The Painting

I must admit I did keep this a secret until all were safely on board and lunch had finished one day, it was a grey (again) afternoon and there were thoughts of afternoon naps and reading. Luckily I timed the reveal perfectly and only saw a few sly looks and heard the odd groan as I brought out the canvases and paints.
No sooner than I had told my crew about the idea, someone had googled "Bob Ross" and all were gathered around a phone watching a painting tutorial on River Views.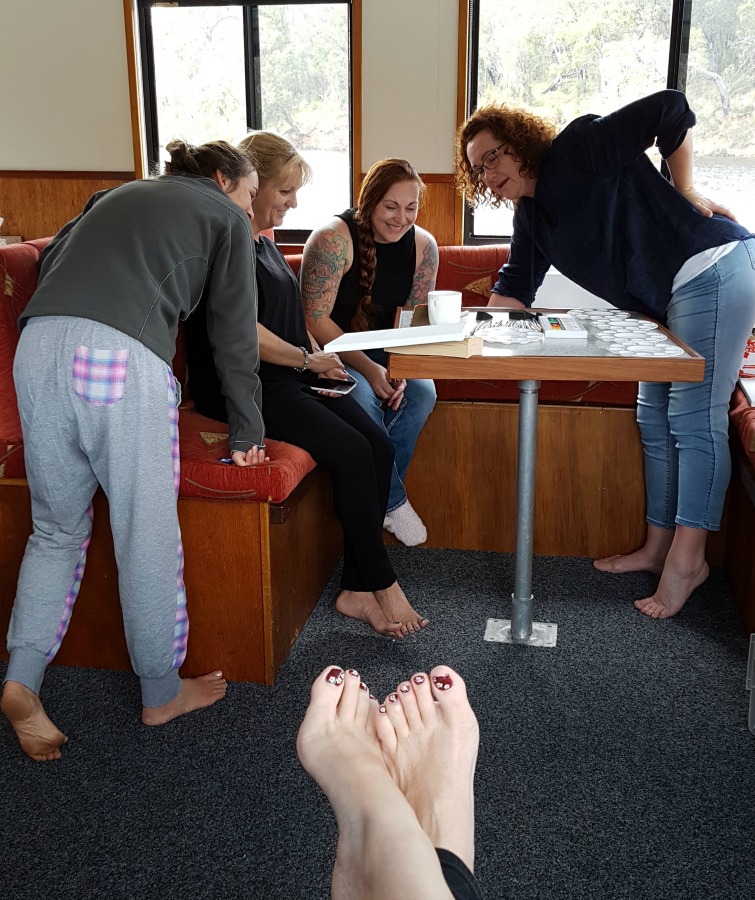 Yep! Me still on that Captains Chair!
I thought they would just wing it and one of the girls admitted afterwards she was just going to paint the fire extinguisher! But Bob inspired most and some masterpieces were created!  It was one of those things you'd just never do and yet we all had so much fun. 

I think secretly we were all pleased with our results and Bob Ross would have been proud.  There is however a little part of me that wonders how that fire extinguisher picture would have worked out!  Pretty much the same as it looks just underneath our art work I recon!

I didn't realise until I uploaded the photo that the fire extinguisher picture was there!
Girls or Boys Weekend

This really was a great few days away and something I would definitely say put on your bucket list.  It's not a huge ticket item to tick off but you'd be hard pressed to find a better way to spend quality time with your besties.  We were all saying how great the boys would love it too.  I'm pretty sure that there would be less painting and dress up and more fishing and jumping for sure.  But seriously just do it! Our time may have been different if the weather had been better but maybe not.  We all had a ball in more ways than this...but of course.. some things that happen on the Blackwood...STAY on the Blackwood!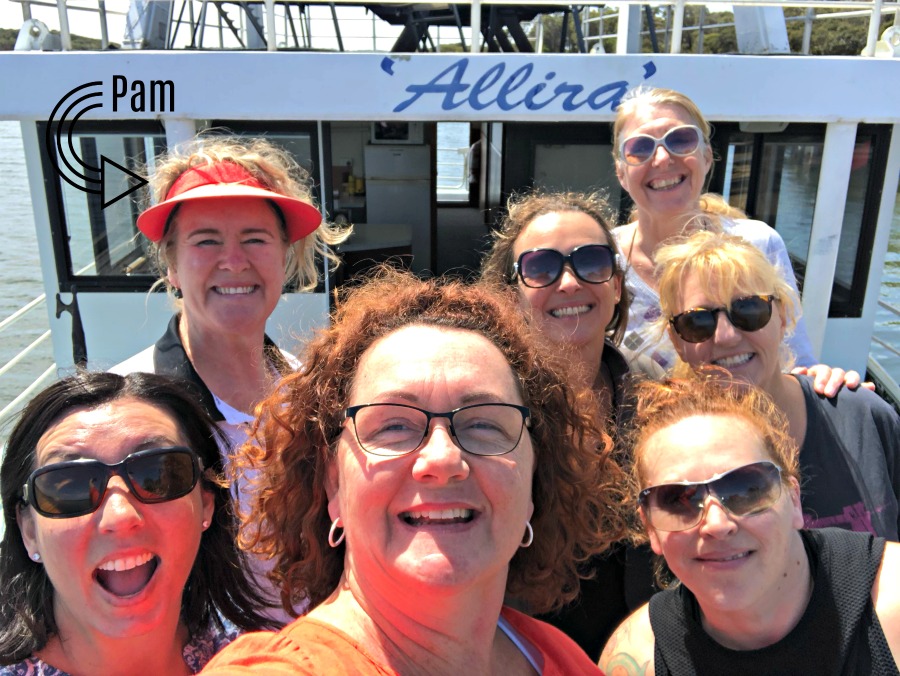 We laughed, we drank and we shared stories, no stress, just fun and we needed this and you probably do too.  If you would like to go, tell Pam that I (Mandy) or TAWK sent you, she will give you a 10% discount!
---
This was not a sponsored post as we were going regardless but I did get a bit of a discount after chatting with Pam (and now you will too) and said that I'd like to tell others about her business.  I truly loved every minute!

Disclosure: Throughout our site there may be some affiliate links including but not limited to Amazon. If you click them, we may get a small commission for your purchase but this is at NO additional cost to you. We might also get a benefit from our TAWKer Supporters BUT again at no additional cost to you. You get to something you want and we get to keep the lights on here at TAWK. #worksforbothofus Thanks for your support of us supporting you :)
TAWK accepts no liability for any situation arising from suggestions or businesses on the TAWK Site.