The Breezy Shade 

When Breezy Shade contacted us to become TAWKer Supporters and offer our members a discount, I was happy as I can see that many of you would benefit from this product.  Lots of shade at the beach or park, easy set up (especially easy to pack down!) and very small and lightweight to carry.  For travelling families it ticks all the boxes and with a discount thrown in for our Members = Happy Days.
When they offered me one to review - and I seriously get offered lots and lots of things, but rarely take up the offers - I accepted this one as I truly thought it was something that I would use - and I do.  (How great is my local beach!)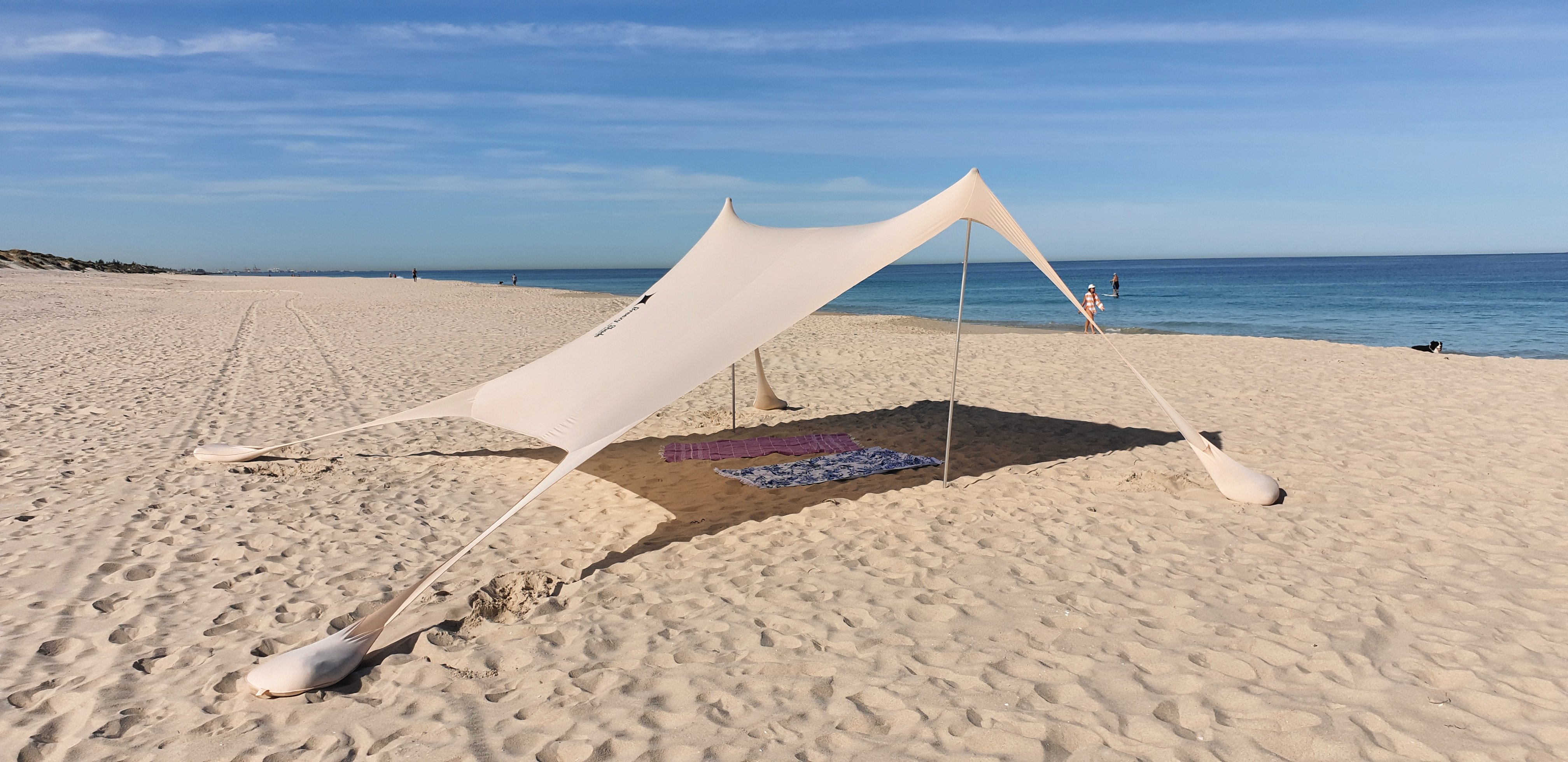 I loved it.  It is now a permanent feature in my 'beach pack' along with sunscreen, bathers and towels.
Now I have to say first, there is a knack involved in putting it up - or rather I should say: just follow the instructions!  Yeah I know, I should have read it all and took note first, but it looked so easy AND it is; you just have to follow the instructions!  
They basically are below (There are videos to watch on their website too.)
Work out where the breeze is coming from and position accordingly. It is designed to work with the breeze
Lay it out on the sand, pulling all corners out fully and stretching out the fabric
Fill each corner pocket FULL of sand - this ensures stability
Pop in the poles
DONE!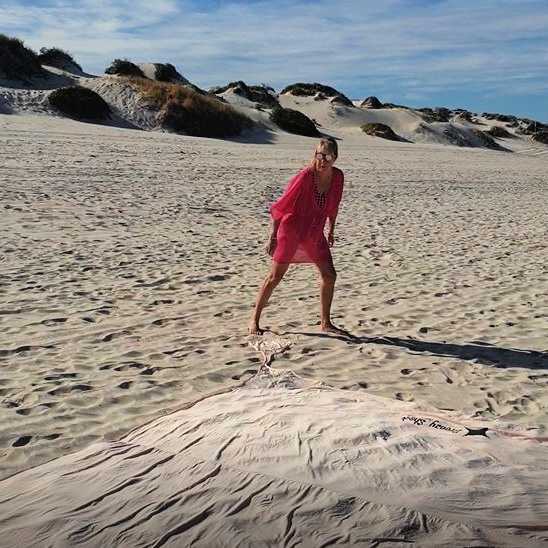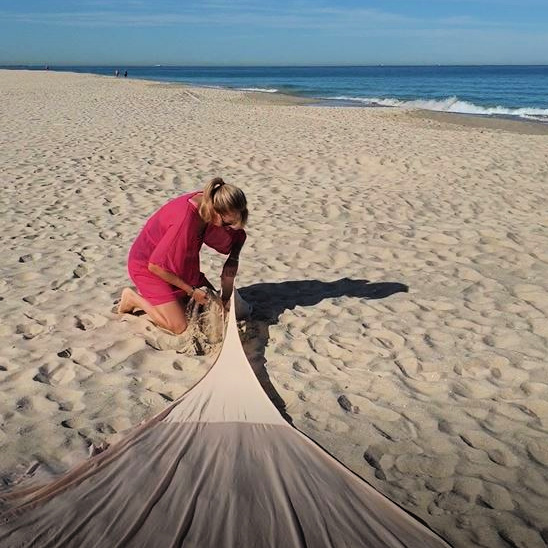 Once up, it really does knock those other shades on the market out the park.  Up until now, we always used one of those pop up and out small tent types - where you all have to try squish and then you have no view apart from the front entrance of the tent. If you have a big family...well it's not easy to all get some shade.
With the Breezy shade, no problem, even the dog can get some shade with you!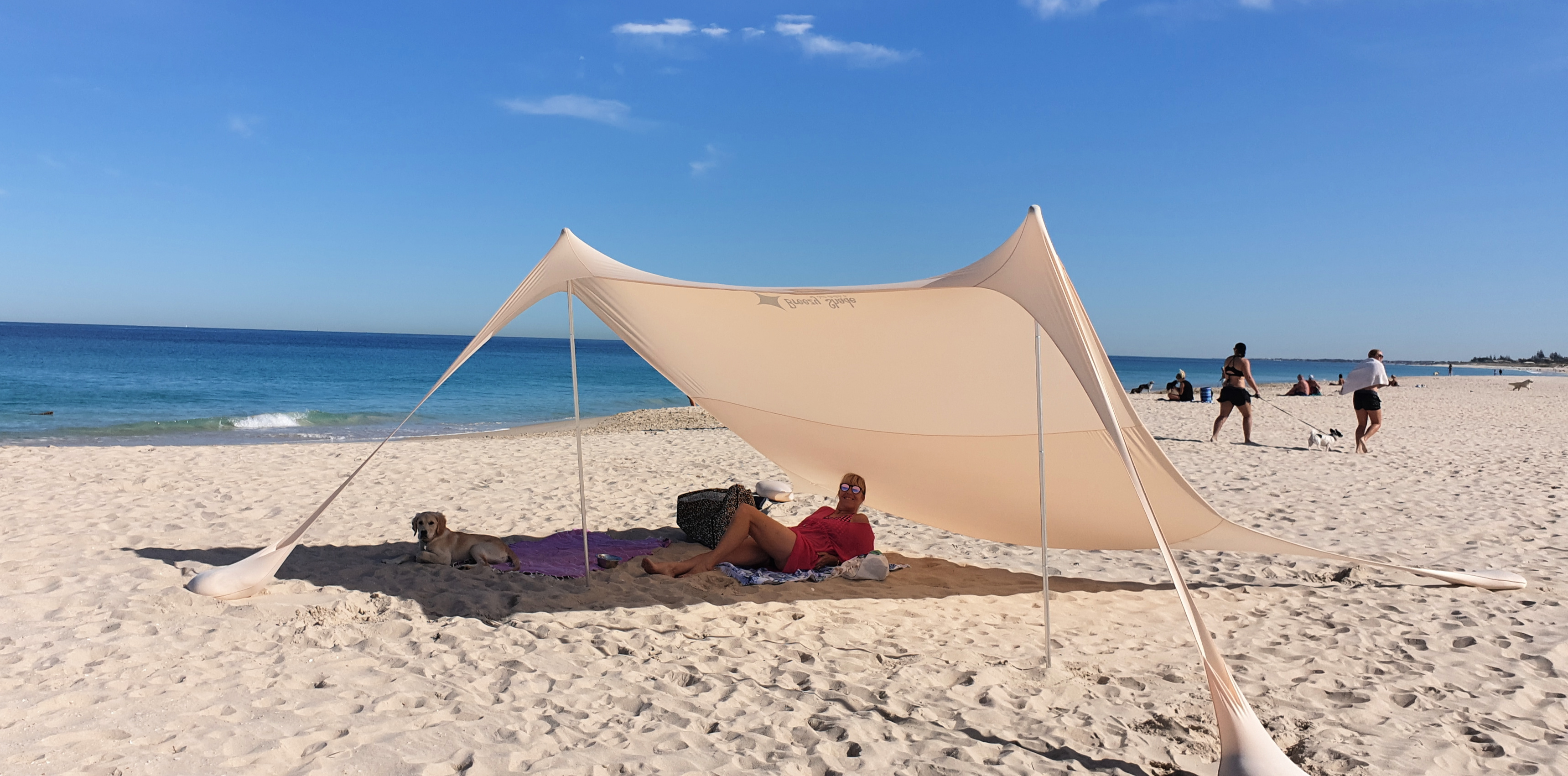 Another absolute winner for me, was the ease of packing it away!  I didn't have to prepare myself for ridicule and entertainment for the beach as you prepare for fight with those pop out ones.  
Simply take out the poles, empty the sand from the pocket and pack into the small bag. Fantastic!
I am no longer travelling Australia with the family, but if I were, this would be included in our must have items for the road.  So small to transport and store, and ease of set up and pack down.  The kids could do it.
More benefits...
Sun protection  UPF 50+Made of top-quality stretchable Lycra Polyester

Super lightWind resistantBreathable & quick to dry

Available in multiple sizes and colours

You can use this at parks too - just need pegs instead of sand to secure

They are now TAWKer Supporters, so with the code TAWK10 you will get 10% off.  
Please support this Aussie family owned and operated business as they support you.  Head over to their website now, there is a great little video where you can see how easy they are to set up and pack down.  
Be social!  Visit Breezy Shade on Facebook and Instagram.
A great way to recognise other family Also Traveling Australia with kids


Disclosure: Throughout our site there may be some affiliate links including but not limited to Amazon. If you click them, we may get a small commission for your purchase but this is at NO additional cost to you. We might also get a benefit from our TAWKer Supporters BUT again at no additional cost to you. You get to something you want and we get to keep the lights on here at TAWK. #worksforbothofus Thanks for your support of us supporting you :)
TAWK accepts no liability for any situation arising from suggestions or businesses on the TAWK Site.