Free Camping Areas


Finding good free camping areas is one of the best ways to travel the country as you'll end up, more often than not, off the beaten track, having the place pretty much to yourself and experiencing more of the natural surroundings.  At certain times of the year (you'll need to check in each state), you can have a campfire.  The children love this! If there is another family nearby, it's a great opportunity to get together, sit about the campfire and share your travels.

The money you save by choosing a free camping area, over a caravan park, could enable you to travel for longer.  Now the expression "Free Camping" does not always mean that the camping is free - there may be a nominal fee and some of the National Parks you will have to buy a permit depending on the state.  I always correlate the words 'free camping' to; without electricity, water and general amenities.  Many will have drop toilets - and there is a whole range of these - whilst other spots will not have any.
Every Free Camping Area will have different stay limits - many along the highways will have a 24 hour limit on them, whereas the reserves and National Parks will allow a longer stay.  At some, you can book - which is recommended at peak times - and others operate on a first in, best dressed basis.

If you are thinking of going in a school holiday period, you will find that some areas get pretty packed, so you may need to book (not all have this option) or get in early as obviously many families like to take advantage of this cheaper way to stay.  Whilst you may consider avoiding these areas at this time, your children may really love the chance to catch up with other kids, as sometimes life on the road means that they do not often have such opportunities.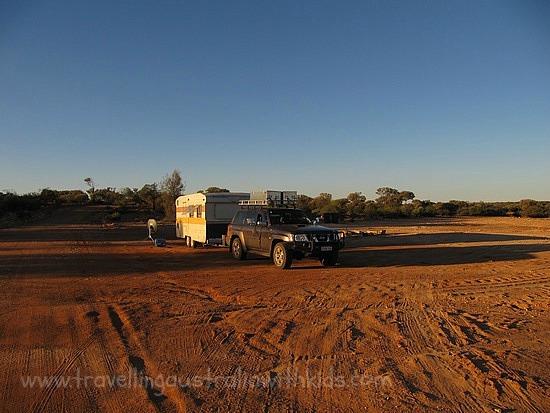 Be Prepared
When you go Free Camping, you will need to be a little bit more prepared than you would be if you were staying at a caravan site.  The major differences being, lack of power, water and general amenities.  Now some do have all of the above, but you should always try to find out and be prepared.
Water  Never assume fresh water will be available, you should always carry enough drinking water for all members of the family anyway.  With the vast expanses you will cover whilst travelling, this is imperative.  Be prepared to have a 'lick and a promise' wash - wash all the essential parts and promise to do it properly later!

Generators  Whilst not the most popular of items with fellow campers (especially our grey nomad friends - who are usually lucky enough to have ultra modern caravans which can run their minimal devices from the internal batteries), these can be a god send if you do not have the ability to sustain power from your caravan. Gives you the opportunity to charge up some of our modern day devices, dvd players, iPods, iPads etc., which you may like charged for the next part of your journey.  Ensure you consider your neighbours and run them only when needed and at respectable times.
Toilets  These have come a long way in recent times and whilst most are drop toilets, with the newer ones, they really are not too bad.  If you do not have a toilet in your van, then this is when a porta loo really comes into its own, as a trek to the drop loo in the middle of the night is not always as convenient as a caravan park. Always ensure you have plenty of toilet roll with you.  Sould you be really remote without any facilities then you need your spade and start digging.  Ensure waste is buried at least 20 cm deep and 100m from any waterways or other camp sites!  Be aware of dump points.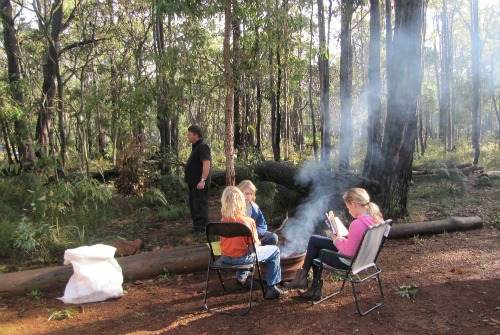 Campfires  Obviously imperative that you check locally whether camp fires are permitted at the time of year.  If they are and you intend to lite one, it is advised to carry your own supply of wood, matches (and marshmallows!), rather than collect at the camp spot or worse still, destroying any trees.  If entering a National Park, you will be required to bring your own.  So a little planning is wise as this can be a wonderful experience sitting round the campfire roasting marshmallows with your family and possibly some new friends.

Rubbish  Ensure you have rubbish bags with you and if there are no rubbish bins on site or if they are overeflowing, then take your rubbish with you.  The golden rule is to leave the spot cleaner than how you found it.  Also do not leave the rubbish outside your van as the wildlife will get to it.

Arrival Time  Often the Grey Nomads will have arrived before you have even set off from your last spot. So if you have your heart set on a particular free camping spot, then you will need to be organised and set off for it much earlier than you would normally set off, especially if you are after a good site.

A great way to recognise other family Also Traveling Australia with kids


Some of the free camping areas in Western Australia can now be booked online - it is a trial period and if it works, they the Department of Environment and Conservation may adopt this procedure in the future.  The DEC Website for Campgrounds is the place to book and you can get details of all the free camping areas here.
If you'd like to know more about free camping areas that are geared up more towards families, or that other families have recommended, then please visit our Free Camp Recommendations page.

There are so many Free Camp spots out there,  I just want to make you aware of the ones that have been found by families to be great for the children.  So, if you have one, please share with us all and make this the best resource and interactive web site for families Travelling Australia With Kids!  SO, OVER TO YOU.....

What Great Free Camp Spot Can You Recommend?
Have you found a Free Camping Area that you and your children loved? Then please share your 'find' with the Travel Australia With Kids (TAWK) community. Tell us exactly where it is and more about it.
What Other Visitors Have Said
Click below to see other Free Camp Spots suggested by other TAWKers to this page...

Licola Victoria Not rated yet
There is a great caravan park or free camping on the Macalaster river. Also Licola has a rich history of logging and cattle farming. In the summer you …
Bluewater Park, Townsville, QLD. Not rated yet
It is a great 24 hour free camp with an awesome play area set up for the kids, plenty of open space, and a river bank not far away so they can go exploring. …
Buladelah Not rated yet
A beautiful quiet spot just off the NSW Pacific HWY water,green grass and geese. Plenty of room too.
Disclosure: Throughout our site there may be some affiliate links including but not limited to Amazon. If you click them, we may get a small commission for your purchase but this is at NO additional cost to you. We might also get a benefit from our TAWKer Supporters BUT again at no additional cost to you. You get to something you want and we get to keep the lights on here at TAWK. #worksforbothofus Thanks for your support of us supporting you :)
TAWK accepts no liability for any situation arising from suggestions or businesses on the TAWK Site.