TAWK Featured Family -
'The Marsdens'


October 2015

1.   About you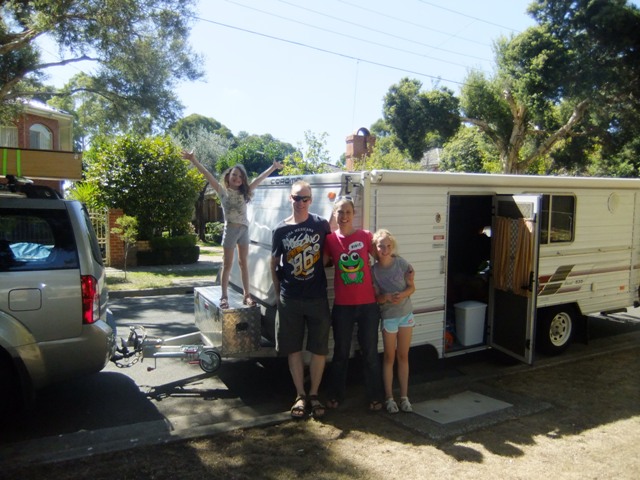 We are the Marsden family from Croydon VIC – dad Andrew, mum Lisa, 9 year old Zoe and 7 year old Ali.  We have been on the road for 6 ½ months in our 2002 Coromal caravan. 
2.   Why did you make your decision to TAWK?
Andrew first mentioned it in 2012 "Hey why don't we travel around Australia?"  I think I said "Okay…?" because I could not imagine it at all.  As I mentioned, we'd never done caravanning and at that stage I don't think we'd ever gone camping as a family. 
Andrew really wanted a decent break from work and to see Australia. He could take long service leave so we spent the next few years saving up enough so that we could go. We chose to go when our daughters were 7 and 9 so they'd be young enough that missing school wouldn't matter so much and old enough to remember it.  We hope.
I needed a bit of convincing to go on the trip as I was quite happy with my part time job, the girls were happy at school.  I also had some great friendships and family and I was unsure how I would go leaving all that familiarity for 6 months.  As well as living in a caravan for that long…and being together as a family ALL THE TIME!  I had many doubts and fears I must confess…

3.   How did you get organised and how did you prepare?


Andrew did a LOT of research into both caravans and 4WD's.  Like a LOT.  He would have spent hours online researching what vans and cars we could afford.   We ended up buying a 2011 Nissan Pathfinder and a 2002 Coromal caravan with a caravan double bed (meaning extremely small) and triple bunk.  The girls both sleep up the top and the bottom bunk is a storage area.  

To be honest I don't think we did much preparation compared to other families I've read about.  We knew which direction we were going and we knew we had 6-8 months to do the trip but apart from that we were very flexible with where we went and for how long.  In his research Andrew found that anything less than 6 months doing Australia is rushed and we didn't want to be rushed; we figured if we liked a place we would stay longer, if not, we'd move on.  

We bought our car about 6 months before the trip and the van 5 months before.  Andrew then spent the time before we left modifying the van, putting in extra batteries, a new fridge, changing cupboards into drawers, putting a storage box onto the van…probably more things I've forgotten.

We had a lot of other personal stuff going on before we left and with that and working two weeks until we left meant we didn't have much spare time to go on practice trips etc.  We figured we would wing it.  

We spent the first two and a bit weeks on the Great Ocean Road before heading to Adelaide then up the centre to Darwin, down again, across at 3 ways to Townsville, up as far as Cape Tribulation then down the coast again.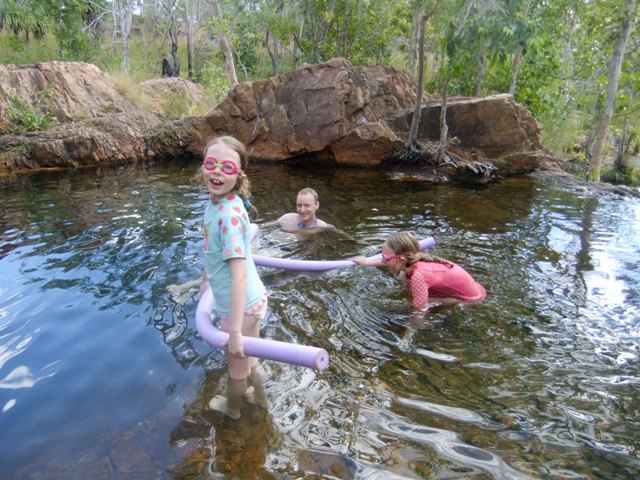 4.  What has been your biggest joy?
My biggest joy has been getting closer as a family.  I don't think we did that much together as a family before the trip so that has been a great difference.  The girls still squabble but the trip has forced them to rely on each other for company and I don't think they squabble as much.  Hubby says it depends on the day…





5. What has been your biggest challenge and how did you overcome it?

The biggest challenge for us has been the home schooling. The girls' school is an independent primary and the teachers and principal were so thrilled that the girls were getting this amazing opportunity.  They suggested we 'keep it real and enjoyable' and suggested things we could do to keep them on track with literacy and numeracy.

That didn't work out so well. We found that planning lessons took too much time and effort so in the end we went to bookstores and found workbooks in maths and spelling.  The girls both read and either write a diary, a letter, an email or a story.

The home schooling was very hard to start with. The girls did not accept us as their 'teachers', 'you are our parents' they said!  Zoe missed being in a group with her friends, her teacher, her school.  It was hard.  It took more than 6 weeks to get into a routine of sorts.  We found it hard to school if we were travelling; maths in the car was too stressful for all of us.  So we found that if we were somewhere for 3 nights or more we could do school work in the morning and have the afternoons free to do what we liked.  

I'm pleased to report that after four and a half months, things were much better.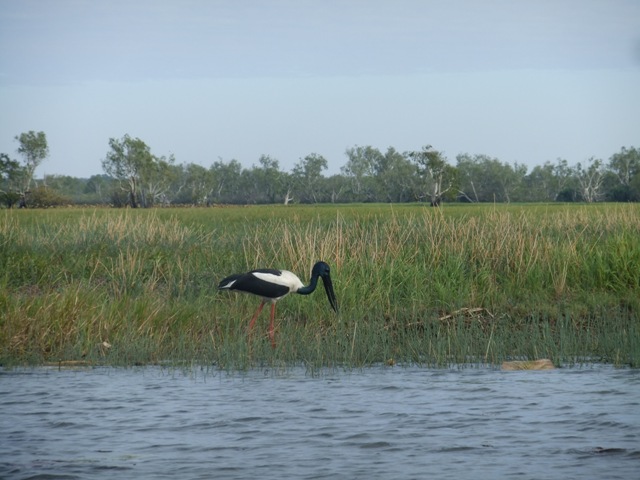 6.   Where have you enjoyed the most?
I think Mataranka is my highlight.  We stayed at Bitter Springs, a 500 metre walk to a thermal spring where the water was 34 degrees.  It was so relaxing floating down the canal and we often spotted fresh water turtles.  A very relaxing week.

Other highlights have been Apollo Bay (VIC), Naracoorte (SA), Edith Falls, Wangi Falls, Berry Springs, Katherine Gorge, Darwin (All in NT), Big Crystal Creek (QLD), Cairns Coconut Resort!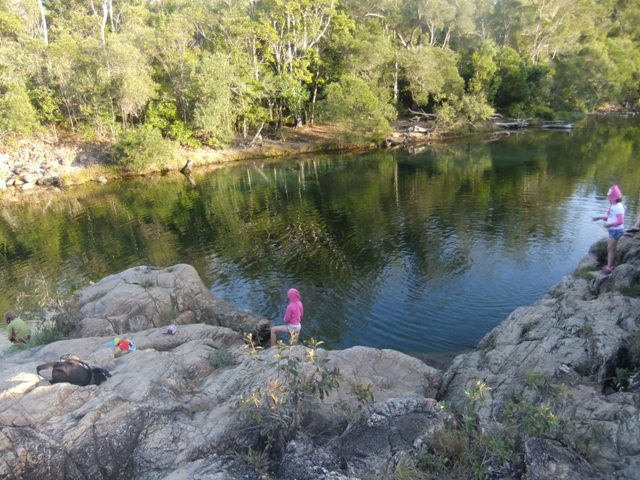 7.   Where disappointed you the most?
I am only speaking for myself – Kings Canyon.  Sorry if I've offended anyone!  But after seeing the Grand Canyon as well as Canyonlands, Bryce Canyon and Zion NP in the USA, I found Kings Canyon a bit underwhelming.  If it had been called Kings NP maybe I would have enjoyed it more but I guess I was expecting a more impressive canyon.  Plus it was cold and windy when we were there.  And we did the 6km rim walk which really challenged the kids' endurance.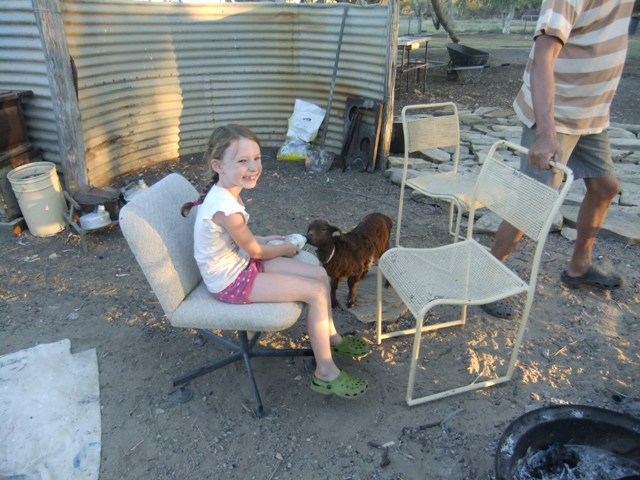 8.   What surprised you most about the trip?
How few other TAWK families we have met and how few people were doing the east coast of Australia.  We have met a few but most people we met in NT were heading west instead of east so we had no chance of meeting up with them again.  

I really expected to meet more families doing what we were doing but we didn't and unfortunately, when we did meet them either we or they were moving on shortly afterwards.  So I didn't get that social aspect I was hoping for and of course Andrew and the girls have missed out too.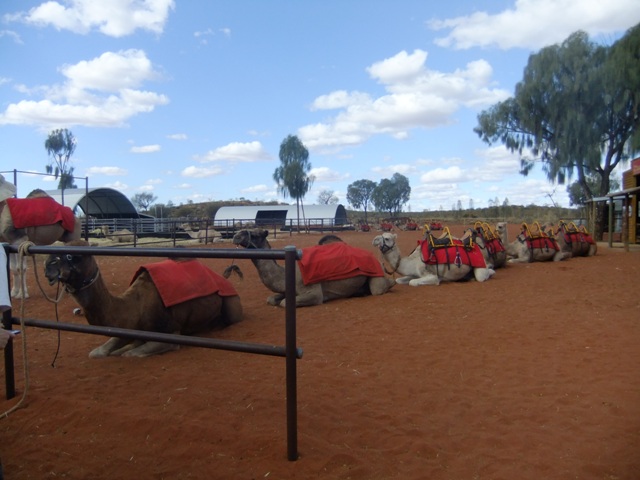 9.   What would be three pieces of advice to give to a future TAWKer?

1.   Things will be hard sometimes but know that you will get through them.  If you need extra support make sure you ring someone back home and have a whinge or a vent.  Being with your family 24/7 definitely takes time to get used to.  Go easy on yourself.

2.   If you don't know what Wikicamps is, find out!  That and Metroview have been life and time savers on this trip. 

3.   Talk to the 'grey nomads'; they have given us some great tips of places to go and places to avoid including camp grounds and caravan parks.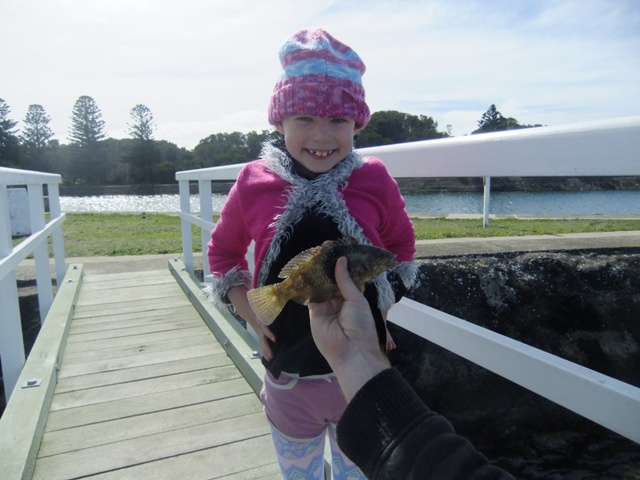 10.   How do you think that this adventure has changed your family?
We are closer as a family.
We spend more time together (how could we not?).
The girls are more confident to do things on their own i.e. buy snacks, go places, ask questions.
The girls don't squabble as much…hmmm…maybe!

I am hoping that when we get home we'll do more small trips in the van and that the girls will be more interested to visit places.
We have become more flexible and able to cope with challenges/discomfort. I definitely got pushed beyond my comfort zone.
We arrived back home on October 2nd.  The kids are happily settled in back at school, Andrew still has 6 weeks of long service leave and I'm looking for part time work.  I am really happy to be back home, seeing family and friends that I missed.  I am back doing my circus class.  Sometimes it doesn't feel like we were ever away!  But then I will remember an experience we had and it brings back great memories.
We loved our trip, it was exciting and amazing, however, after about 5 months we were all ready to go back home.  The novelty of travelling had worn off and the east coast of Australia seemed a bit touristy after outback NT and QLD. 
Andrew and I both think that 3 months would have suited our family better.  The kids really missed their friends and we found the home schooling quite stressful.  We would recommend to other families to pick a state or a couple of states and do 3 months.  If we'd done this we wouldn't have stressed as much about school work and it would have been fun and exciting and then we would have come home.  Six months seemed, and was, a really long time. 
One thing that was great about the trip was that it forced us to face and tackle some undesirable behaviour in our kids.  We couldn't ignore rude and disrespectful behaviour when we were together 24/7 and living in a caravan.  So with lots of patience and reward charts the girls slowly changed their habits.  Success!
Thanks for reading about our travels.

If you would like to become a TAWK Featured Family, please complete the form at the bottom of the page.

---
If you would like to be a part of the TAWK Featured Family page and share your Australian Road Trip with everyone, then please complete the form below and I will send you the details.  The more of us that share our journeys, hopefully we will inspire other families to get out there and travel our wonderful country.
| | |
| --- | --- |
| | If you think you'd like to turn your family travel blog into a little online business then this video will give you food for thought. |
Disclosure: Throughout our site there may be some affiliate links including but not limited to Amazon. If you click them, we may get a small commission for your purchase but this is at NO additional cost to you. We might also get a benefit from our TAWKer Supporters BUT again at no additional cost to you. You get to something you want and we get to keep the lights on here at TAWK. #worksforbothofus Thanks for your support of us supporting you :)
TAWK accepts no liability for any situation arising from suggestions or businesses on the TAWK Site.