TAWK Parks List


Grab a copy of the current TAWK Parks List here.  This shows all the TAWK parks on one document.  You can also click this link and go to the state that you wish to find TAWK parks at.  But if you would like to keep a hard copy in your car or caravan then you can download that list here and print it out or save it to your mobile device.  

Don't forget, TAWK Members will get at least 2 night's FREE camping for their kids at our TAWK Parks.  Some parks offer more but it is not a requirement for the park to offer this to be a TAWK Park - so please do not push for this if the park is not offering.  You will find every the finer details of each park's offer on their listing. 
Remember that some parks do not offer the TAWK deal in their busy school and public holiday periods, so again, please remember to check the listing. And of course the offer is not in conjunction with any other deals the park might be offering.
Click here to grab a copy of the TAWK Parks List.  Note that new additions to the program will be listed in green.  
****  We will send out an update to the list once a month for you as we do add parks often and some do leave the program SO please also check each states listing ****

You will need a TAWK Membership Card to show at participating parks to get the TAWK deal and you can purchase that by clicking the link below.  It is just a one off payment for the life of the TAWKer Supporter Program of $40 - so no renewing ever!! (Although there is a charge for replacement cards should you not be able to find it.)
Please ensure you put the name that you want on the card in the Billing Section of the order page.  It will then be personalised and sent to you within 2 - 3 days (allowing for weekends and any remote camping )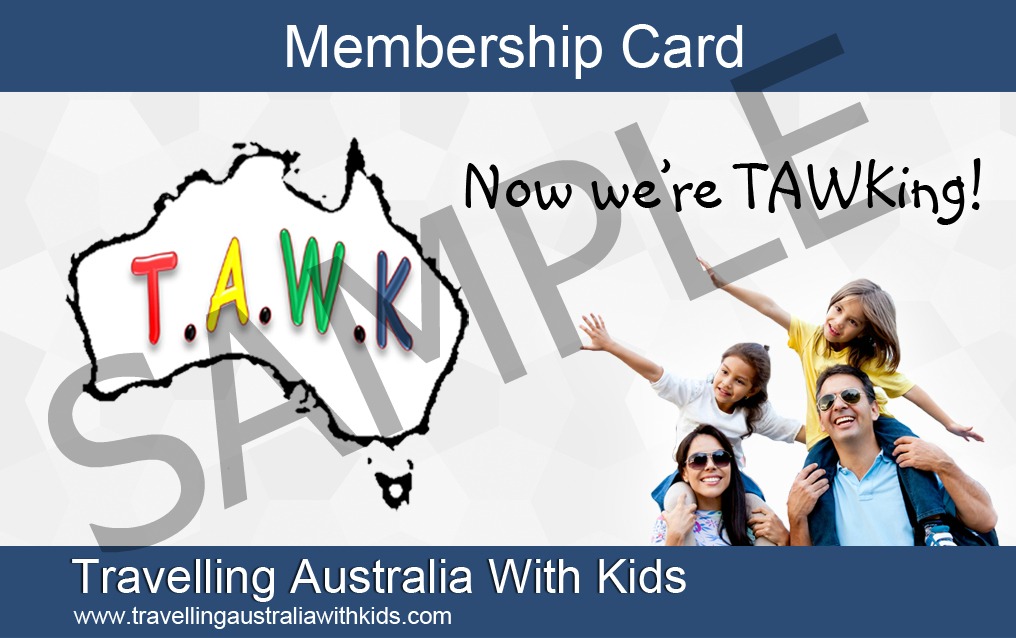 ALSO!  Please do not forget to mention the TAWKer Supporter Program to parks that you think would make a great fit for the program. 
The more of us that do this, the more you will all save! Plus, the more parks will hear how popular the TAWKer Supporter Program is and just how many families are travelling our great country and could support their park all year round.  #winwin
Another great way to be part of the TAWK Family is to grab your TAWK Sticker and display it with pride!  It can help you find other TAWK families.  Thanks for your support of TAWK as we strive to support you.
A great way to recognise other family Also Traveling Australia with kids


Disclosure: Throughout our site there may be some affiliate links including but not limited to Amazon. If you click them, we may get a small commission for your purchase but this is at NO additional cost to you. We might also get a benefit from our TAWKer Supporters BUT again at no additional cost to you. You get to something you want and we get to keep the lights on here at TAWK. #worksforbothofus Thanks for your support of us supporting you :)
TAWK accepts no liability for any situation arising from suggestions or businesses on the TAWK Site.