The Australia Outback of...
Kambalda, Kalgoorlie and Niagara Dam



Playing golf in the Australia Outback was really quite the challenge, not least that I never played golf on a normal course! So after the holes at Fraser Range Station we headed in to pay our fees for the Nullobor Links Course in Kalgoorlie. We then did the Norseman hole, the Kambalda hole and then looked for a place to stay. 
We found this strange campsite in Kambalda. 
It was only $20 per night which is cheap for this party of five AND with free washing machines, a pool, a gym and a restaurant with all you can eat for $15 adult and $7.50 per child!  It's a site pretty much geared up for the local gold mines, so lots of little cabins and the campsite is pretty much incidental.  So us being all up for somewhere cheap, we stayed here and visited Kalgoorlie.
The Super Pit was a sight to see, although not sure I liked the gaping hole in the earth....but it was sort of spectacular at the same time.  We visited the Mining Hall of Fame, which incorporated a gold melt and pour and a trip down one of the first mines in Kalgoorlie - the kids learnt quite a bit (and so did I!) and we even managed to find some slithers of gold!

It was nice to be in a city for a while, even though it still is the Australian outback.  I actual like this whole goldfields area much more than I thought, the red earth and the mines dotted around everywhere, it seems to give it a feel of expectancy, you can't help but scour the earth, looking for that gold nugget!
Australia Outback

It was time to move on and we found ourselves once again enjoying what the Australia outback has to offer.  This time, a place called Niagara Dam.  No facilities, just us and the elements and one 'drop' loo.  The dam was made by C Y O'Conner to supply water to the goldfields, but after it was built it turns out that it didn't rain as much as he anticipated and the pipeline went through any way! So basically it was used for swimming.  There I was standing on the dam in the middle of nowhere and my mobile rang! It was my dad, calling from England!! How's the serenity!!!!

We camped overnight and made a fire, sat around it, the children went to bed, and we watched the shooting stars sprinting across the sky. (What is the story with those stars?? They just can't all be suns, I know they are, but it's just too huge when you really try to get your head around the vastness of it all!)
The flies really seemed keen to get inside our eyes and ears, we had to get those face nets to combat that and they worked a treat. (unless of course one snuck inside before you sealed it - I think these Australia Outback flies know just how to get in too!)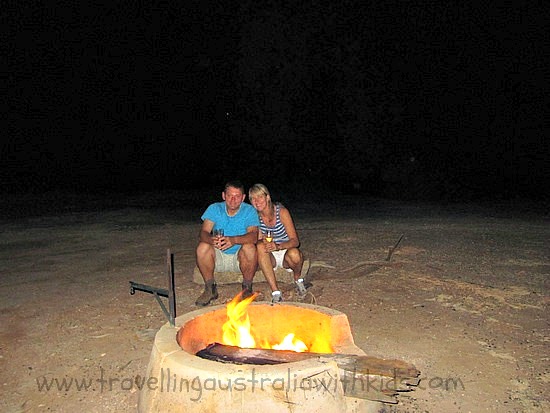 From Niagara dam we headed North and was trying for another free camp spot but time got the better of us and we headed for a town on the map that had very little tourist info about it, but indicated there was a campsite.  BINGO, we stumbled into a great little town called Leinster, a BHP closed town, meaning they own and control everything.  The campsite was cheap and clean, the town had a free pool to use, a BMX track – which the children loved and generally a great feel to the place.

A great way to recognise other family Also Traveling Australia with kids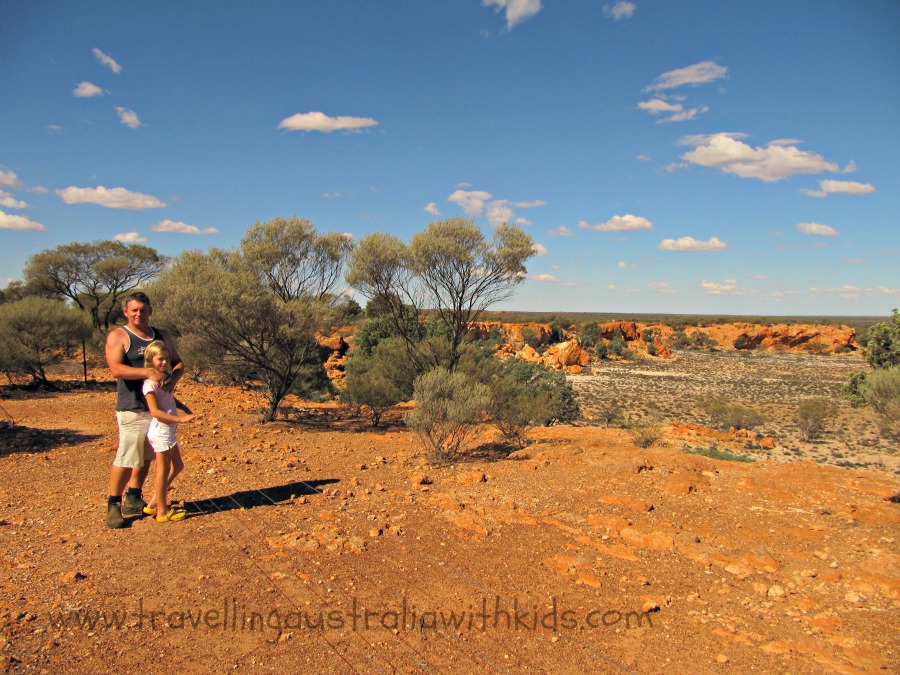 We are loving the red earth of Australia outback, I still feel I should be scouring the floor for gold.  You know, just in case there's some just waiting to be discovered by my feet.  But we want to get back to the West coast to start heading North. I know that we have almost come back to Perth...but there is so much to see out here. We are already discussing the 'off road caravan' that we want to buy for the next trip.  Whilst the car is more than capable, I feel every bump for our dear old van! 
I have come to love the Goldfields and am really surprised about that.  I can't wait to return to the more remote areas.
- Four days after leaving Kalgoorlie – Boulder a 5.0 earthquake hit and caused quite extensive damage.  We could really relate to the places shown but was relieved to have missed this 'once in a lifetime' experience.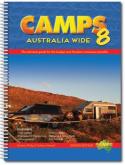 So we head off again and we have quite a long trip ahead, according to our 'Camps 5' bible (Camps 8 is the current book - see left) there are a couple of nice overnight stops on the way to Mt Magnet and you can get about 100 metres away from the road (rather than another campsite), so we were considering doing that.  However, whilst on the road, we only saw eight other vehicles in 315 kms and four of them were road trains and in the Australia Outback, they are huge!  And loud!  So we decided against the free camps and headed into Mt Magnets campsite, thinking it would be quieter.

WELL that was a mistake as it turns out, we were now camped only 20 metres from the road and not on the quiet road we were on, but the intensely busy road on the way to Meekatharra and Cue!

Approximately 12 MASSIVELY LONG AND NOISEY ROAD TRAINS EVERY 30 MINUTES!!!!  E V E R Y 30 M I N U T E S.  OMG, we could do no more than laugh and laugh and hysterically laugh some more, a really high pitched and insane laugh!

Next stop Greenough near Geralton and frankly 'too cold and rainy' again....so might be a quick visit. (to be written)

Disclosure: Throughout our site there may be some affiliate links including but not limited to Amazon. If you click them, we may get a small commission for your purchase but this is at NO additional cost to you. We might also get a benefit from our TAWKer Supporters BUT again at no additional cost to you. You get to something you want and we get to keep the lights on here at TAWK. #worksforbothofus Thanks for your support of us supporting you :)
TAWK accepts no liability for any situation arising from suggestions or businesses on the TAWK Site.