Our Family Travel Blog


So this is our Family Travel Blog

This is our journey on how and where we travelled for two years around Australia - to find out how we got started and how we got to this point you should click on The Full Story.  However if you would like to know where we went, follow our trip and hopefully inspire you, then please read on.  
Packing the van was a challenge in itself but luckily one of our friends was a Tetris Master; he could pack the van in a way that we could only dream about.  Now if any of you have ever played the game Tetris, you should know that this man was an expert.  He looked at a shape, and found a spot to slot it.  This was great, so much more could be taken, which posed the question "Should we take more?"

Our Family Travel Blog will now really begin and hopefully it will help you to see what the experience is really like - rather than all the hype that you get told.  So please enjoy....
Our Family Travel Blog really starts here
Moore River, Guilderton WA
We bid our goodbyes, (or so we thought) and we were on our way.  We had decided that we wouldn't upgrade the car at this stage and therefore was towing the caravan with our sturdy Ford Falcon.  We had all the safety aspects covered, we had been over the weighbridge, all okay, we had sway bars.  We were good to go.  However we were not even half way into our one and a half hour trip to Moore River when the decision was made.  We needed to upgrade the car!  Quite frankly a no brainer, what were we thinking!  It was safe but it didn't feel safe and at the end of the day 'feeling' safe is what we needed.  Not forty five minutes into the trip and we were going back to Perth!  But we thought we would enjoy our two week stay in Moore River first, after all we might find we need to change other things.
It took at least eight phone calls to our friend, the Tetris Packer, to try to find out where anything was, we realized that one of the things that we had to change was; we needed to pack our own things!  He'd done a stirling job, there is no way we could have fitted so much stuff in BUT there was also no way we could fit it all back in!  Once the puzzle was taken apart, only a Tetris master could remake the puzzle. 
Two weeks and lots of visits from friends to wish us well we eventually headed back to Perth.  We bought a Nissan Patrol,  we  stocked up on things we found we needed and left stuff that we thought we needed!  We spent six days at hubby's mums, where the hospitality was only as it can be at the all Italian household, lots of food and wine and we struggled to leave again!
Mandurah and Dwellingup, WA

Click on any of the photos to see a bigger version.

A great way to recognise other family Also Traveling Australia with kids


Mandurah, WA
Mandurah is one of those places so close to Perth, that we never go there.  Well it was time to change that. It was another short trip and we were still getting on our feet.  Well, we loved it. It's a great spot, we fished and crabbed and basically got into the swing of things.  Life in a caravan, homeschooling and we started some sightseeing.  The children loved the Maze at Mandurah, it also has a mini model village.
The caravan park asked us to stay longer for a photo shoot that was coming to the park and a feature in the caravan and camping lift out in the West Australian AND they said they'd throw in a free nights accomodation. What could I say - we'd only been on the road for just over four weeks, hardly felt we were a good example of a 'Travelling Family' - (had no family travel blog to offer at this point) but they thought we were perfect for it, so an article it was.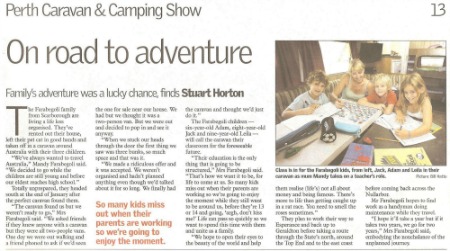 A few weeks later, we were in the West Australian newspaper!  Fame at last!  Hubby and I were linking arms like a couple country dancing, the children were jumping and screaming!  Our 15 minutes had arrived!  It wasn't until we read the article that we realised we were actually embracing all what we had said we hated – quote "help them realise that life is not all about money and being famous"   Whoops!  Ah well, what's fifteen minutes in the grand scheme of things!
After our appearance in the West Australian, we found ourselves the centre of attention with the article popular amongst the camping fraternity and instant recognition, offers of free accommodation, a new caravan, a family travel blog section in Caravan Weekly and a spot on The Footy Show! NOT!! 

We stayed longer than we thought in Mandurah and made a note to visit here more often when we finish our travels.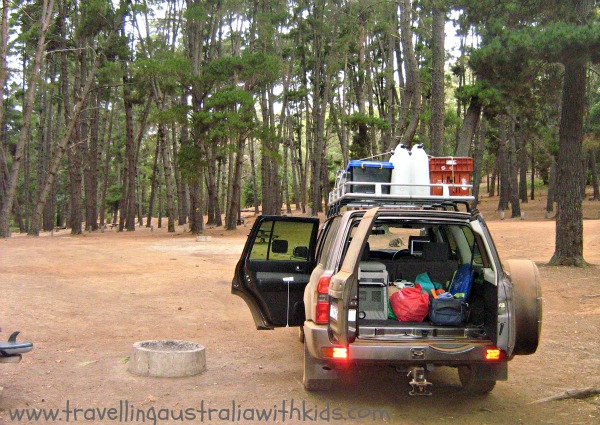 Lane Poole Reserve - Baden Powell Camp Ground
We then went to our first 'free camp' (check out our Free Camping page) basically this means without electricity and running water rather than monetary free. A ranger came round and collected a basic fee, which being our first time, we completely misunderstood and thought that the fee paid was for the entire stay.  Turns out it was per day. Who knew? When a ranger turned up the next day to collect the fees again, we confidently told him we had already paid.  To which he said 'no worries' and we stayed for the next four nights - thinking 'what a bargain!' (It wasn't until a few months later, and other National Parks that we realised our mistake - ooops).

We stayed at Lane Poole Reserve at the Baden Powell Camping Ground. Easier than I expected without the comfort of power and so peaceful in Dwellingup.  We even managed to use a hole in the ground 'toilet' - couldn't smell a thing, but had my fingers firmly blocking my nose!  That or gag! We were able to boil water in the van and wash up - and rinse!  There was a moment of realisation that I thought "The crockery is cleaner than me!!" So we got out the solar shower, let it lie in the sun all day and showered under the stars.  Simple pleasures.
More information on WA Free Camping Grounds here.
We loved this spot, but it was time to more on.  Next stop for our family travel blog: Margaret River.
| | |
| --- | --- |
| | If you think you'd like to turn your family travel blog into a little online business then this video will give you food for thought. |
If you have a Family Travel Blog please let us know
Disclosure: Throughout our site there may be some affiliate links including but not limited to Amazon. If you click them, we may get a small commission for your purchase but this is at NO additional cost to you. We might also get a benefit from our TAWKer Supporters BUT again at no additional cost to you. You get to something you want and we get to keep the lights on here at TAWK. #worksforbothofus Thanks for your support of us supporting you :)
TAWK accepts no liability for any situation arising from suggestions or businesses on the TAWK Site.