The Walpole Treetop Walk
and the Valley of the GIANTS


We were heading to the amazing Valley of the Giants and the Walpole treetop walk, but on the map found a free camp spot and thought we'd stay overnight there. Shannon National Park, an amazing spot set amongst the magnificent Karri forest.  Oh the smell of these places, it smells...green?!  Or it would if green had a smell!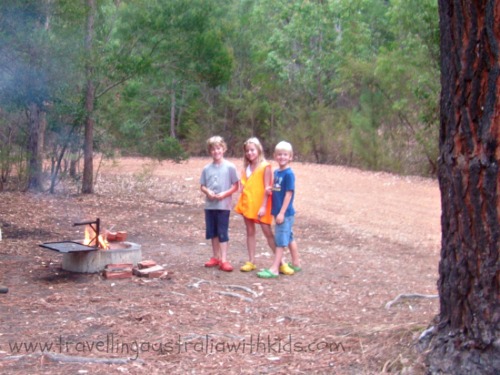 It was also our first campfire. There were no fire restrictions and finally the children could help build a fire, and toast marshmallows. ......OR they could have done, if I'd have had any.  Oh well, note to self; stock up for next time!
Surrounded by huge Karri trees, on our own .... 'hows the serenity'?  Hubby even did a nudie run around the van, much to the children's amusement!  With hindsight we wished we'd stayed longer but we felt as we'd stayed longer in Margaret River than intended it was time to move on and we were really looking forward to the Valley of the Giants and the much anticipated TreeTop Walk.

The Tree Top Walk

The last time we were here, was back in 1995 and they were just starting to build it. I was really looking forward to getting up there in the canopy of the Tingle forest. But not all members of the family were quite as keen! I forgot about the whole 'scared of heights' thing that my hubby and eldest son had going on.  Without that, let me tell you, it might have been a bit more enjoyable.  They were clinging on for dear life - The TreeTop walk, was turning into the TreeTop cling on!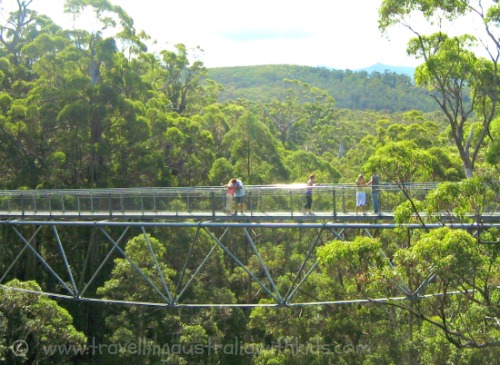 I spent most of the time, counting how many people were on the structure as only 10 are 'supposed' to be on any of the suspended bridges at one time.  Note the word supposed!  AND if only that joker who felt the need to 'bounce' his way along, wasn't on the bridge the same time as us, I'm pretty sure we could have found it much more enjoyable. I tell you I could have swung for him. Anyway... We still got to be among the tree tops and it felt amazing, (for some of us). 
Two members of the family, much preferred the Ancient Empires walk at the bottom.

These absolutely massive trees makes one feel very small. By sticking to the boardwalk, it helps to protect the environment of these magnificent trees.  In some places the boardwalk takes you 'through' some of the trees.  There is also a simulation of a car inside one the trees to give the children an idea just how big they are.  And of course a great photo opportunity.  Ours loved it.
A great way to recognise other families also Travelling Australia With Kids


Overall, the treetop walk was pretty special, but if you get there are there seem more than the 10 recommended on the structure, then if I was you, to be on the safe side, I would head to the Ancient Empire walk at the bottom and a chance for the children to look like they're driving a car, in a tree (?)!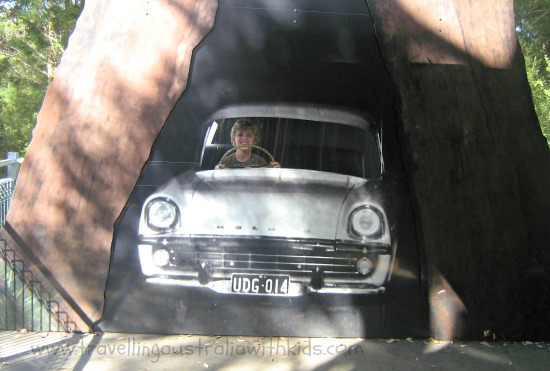 We left as the place was closing and were excited to be heading towards more Free Camping spots, Parrys Beach, near Denmark and Two Peoples Bay near Albany WA.

Disclosure: Throughout our site there may be some affiliate links. If you click them, we may get a small commission for your purchase but this is at NO additional cost to you. We might also get a benefit from our TAWKer Supporters BUT again at no additional cost to you. You get an something you want and we get to keep the lights on here at TAWK. #worksforbothofus   Thanks for your support of us supporting you :)
Travelling Australia with kids is a participant in the Amazon Services LLC Associates Program, an affiliate advertising program designed to provide a means for sites to earn advertising fees by advertising and linking to Amazon.com.au

TAWK accepts no liability for any situations arising from using suggestions on the TAWK Site.