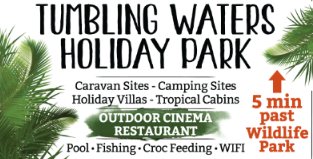 Once again it was one of our wonderful TAWKing Families that helped to get Tumbling Waters Holiday Park on board by telling them about the TAWK Supporter program.  They were keen to join the movement and offer TAWK Members FREE camping for their kids all year round!!  So; Welcome to Tumbling Waters Holiday Park.  
It's a family friendly tropical paradise just 20 minutes from Palmerston in the heart of all the tourist attractions!  Just 5 minutes from Berry Springs pools and the Territory Wildlife Park. You can even explore Litchfield National Park within an easy drive.
Set among 25,000 palms & gardens, offering holiday villas and cabins, shady powered and non-powered sites, saltwater pool, fishing, walking trails and the most delicious menu at the licensed café/restaurant.
There are so many COMPLIMENTARY activities on offer for families including an outdoor cinema, fishing, free WIFI, croc feeding, wildlife handling and weekly Sunday market stalls.
Kids stay free for the duration! The park is recognised as one of the nicest in the Top End by Lonely Planet Travel, and it's easy to see why! Oh and if you have your dog with you, they may be allowed to stay too at owners discretion, so make sure you mention it when you book.
So make sure you put them on your must stay list in the NT and support them supporting you.
Tel:   (08) 8988 6255  Email: stay@tumblingwatersholidaypark.com.au