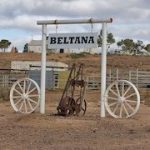 What an amazing place to start your Flinders Ranges Adventure!  Beltana Station - which also incorporates Puttapa Station - is a working station with sheep and cattle. 
Laura and Graham invite you to share the experience with them in this amazing and historic area.  They are passionate about the history of the area and love to share it with you.
They offer not only camping sites but a range of accommodation, a cafe and restaurant, a swimming pool and a museum! Not to mention several tours including 4 wheel driving, camel riding and the ever beautiful sunset tours.  Find out more....